After Matt Barnes' presser in El Segundo on Tuesday, Mitch Kupchak briefly addressed the ongoing negotiations between the Lakers and Shannon Brown, the only noteworthy name currently linked to the team. Optimism was maintained, and a resolution was predicted within 7-10 days (now 4-7 days), but 72 hours have passed and some specifics about competing suitors have emerged.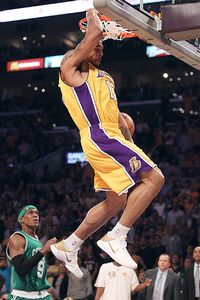 Christian Petersen/Getty Images
Could this be Shannon Brown's last season dunking for the Lakers?
ESPNLA.com's Dave McMenamin reported Thursday that the New York Knicks and the Cleveland Cavaliers (the team that drafted Shannon back in 2006) are in the mix. CBSSports.com's Ken Berger says there's a formal offer on the table from NYC, but Brown is waiting to see if the Lakers can move Sasha Vujacic (presumably to create a little more walking around money to offer Brown).
I'm not privy to the dollars getting tossed around, even in purely "reported" terms, so there's always a chance the finances could emerge as the deciding factor. He's yet to make more than $2 million over a season in his NBA career, so from a financial standpoint, he's not in the position of say, LeBron James, Dwyane Wade or Chris Bosh, who all took "less money" en route to making nine figures with the Super Team in South Beach. For that matter, a multi-year deal could also tip the scales.
Shannon understandably craves stability, and if he's offered the shot at a place to call home, I imagine it would be difficult for him to turn down.
But what makes Shannon's reported situation truly interesting is how, on paper (the metaphorical kind, not the kind you sign or spend), there are legitimate pros and cons in each prospective situation for a player who is just now beginning to spread his wings.
The Cavs offer the worst situation when it comes to the possibility of winning. Life without The King won't reach "Nets in 2010"-level lows, but make no mistake, Cleveland ain't gonna be good. At all. When your "big three" is Antawn Jamison, Mo Williams and Anderson Varejao, the case for "holes" isn't difficult to present. Byron Scott is a seasoned coach, but if his new squad makes the playoffs, it'll be more indicative of the Eastern Conference's lower half being weak than of his wizardry.
But despite mediocre prospects for success, the Cavaliers offer an appeal for Brown. He could easily start there. His biggest competition is Anthony Parker, a solid player and a terrific shooter, but also 35 and fully developed. No matter how much or how little upside you see in Shannon, who is still raw in terms of meaningful experience, his upside is higher than Parker's. Brown would represent the future, and that's the direction Cleveland is looking, despite Dan Gilbert's vow to win a championship before the Heat. It's a meaningless season for Cleveland in the grand scheme of things, so they would not risk much in pushing Shannon to the limits to see what he could handle. Cleveland is the team where his role could be the largest, and you could argue playing time should be the number one priority at this stage of Shannon's career.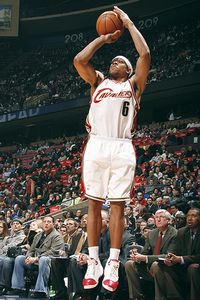 Nathaniel S. Butler/NBAE/Getty Images
Shannon would be a much better player in Cleveland the second time around.
Still, New York may offer the best compromise between playing and winning. The Knicks have a ways to go before being considered legit contenders, but they're nonetheless drastically improved. Amare Stoudemire. Ray Felton. Anthony Randolph (even with the mistakes guaranteed to come). Ronny Turiaf. Kelenna Azubuike. These are solid additions to complement holdovers Danilo Gallinari and Wilson Chandler. New York certainly has enough firepower to make the playoffs in the East. Work remains, but they're moving in the right direction.
In the meantime, the fit is nice on several fronts for Shannon. Beyond Azubuike, the starting two-guard spot could be his for the taking. At the very least, Shannon stands to get more minutes backing up Azubuike than he does backing up Kobe Bryant. Examining the X's and O's, Shannon and Mike D'Antoni's wide open, fast paced system also feel like a nice match in the making. For that matter, so do Brown's gravity-defying dunks and the bright lights of Madison Square Garden. The New York crowd loves a good show and has been entertainment-starved for years, save the odd night when Kobe, D.Wade or LBJ dropped by. Knicks fans would certainly scrutinize Shannon's developing game, but his hops and hustle would still probably win them over.
After years of shocking ineptitude, it's hard wrapping my head around the idea of the Knicks being a tempting destination, but I wouldn't blame Shannon if he felt that way.
Of course, Shannon's current situation could be tough to bolt.
Without question, the local opportunities feature a lower ceiling. There are only so many minutes available behind Kobe Bryant, even taking into account the yearly desire to scale back his burn. Shannon's role with the second unit can only grow so much, even taking into account the fact that neither Lamar Odom nor Steve Blake (now siphoning the minutes Shannon occasionally took from Derek Fisher) is a compulsive scorer or glory hog. Shannon is a hard working player with a strong desire to sharpen his craft. The Lakers can offer opportunities to improve fundamentals, but the limit to his responsibilities on the team would likely deny him a chance to really take off.
Still, the fringe benefits of playing in L.A. are serious: Your jewelry collection is always on the verge of increasing. You've got perennial sunshine and a great city. And you're building an identity with an elite franchise, which must be nice after an early career spent packing and unpacking your bags.
Plus, the Lakers were the first team to believe in Brown. Phil Jackson quickly gave him a role in a title run, despite Shannon being a mid-season newbie in 2009. The Lakers put him on the map. Shannon doesn't owe them any loyalty because of this, but I would be surprised if this history doesn't make it harder to leave.
The bottom line is, Shannon likes it here. I've never heard him say or even act otherwise. All things being equal, I'm guessing it's where he'd prefer to stake out a career.
But the NBA isn't a Utopia, and there are decisions to make.
If you're Brown, do you go with the biggest role (Cavs), the biggest potential for gold (Lakers) or the best potential middle ground (Knicks)?
Stay tuned.