Virginia comes into Saturday night's game at the Coliseum as a three-touchdown underdog, so it probably needs a break or two to have a chance.
Its biggest break could arrive just before kickoff.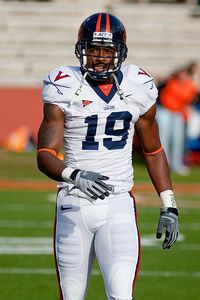 Jeremy Brevard/Icon SMI
Ras-I Dowling will travel to L.A. with the Cavaliers, but his playing status for Virginia is uncertain.
Cavaliers coach Mike London said a decision on whether cornerback Ras-I Dowling will return from a hamstring injury and play may not be made until then. For Virginia to slow down USC quarterback Matt Barkley, who looked dynamic in the Hawaii opener, it might need its best player healthy and ready to shut down passing lanes.
Trojans coach Lane Kiffin said he expected Dowling to play. Kiffin said he had a "source" at Virginia's game against Richmond who said Dowling looked "decent in warm-ups" before sitting out his team's opener.
"He's a guy they say is a potential first-round draft pick," Kiffin said. "I would think this would be a game he'd be excited about, especially to match up with Ronald (Johnson). I would anticipate he would play."
Dowling, who was unavailable for comment, has not spoken with the Virginia-based media since before the start of the season. London has already confirmed Dowling will travel with the team to Los Angeles and suit up for the game, but he won't go beyond that.
"A hamstring injury for a skilled athlete is something that can tie you up for a while," London said.
A Johnson-Dowling matchup could be among the most intriguing individual matchups of this USC season, not to mention good film for NFL talent evaluators. Johnson has already said he's excited for the chance to show his skills against Dowling.
"If I ever get a challenging corner, I'm ready to challenge him and take it home," Johnson told ESPNLA.com this week.
The Cavaliers' strength is their pass defense. They finished tied for second in the ACC and 21st nationally in that category last year. ESPN's Mel Kiper projects Dowling, who is 6 feet 2, 200 pounds, as the No. 21 overall player available in April's draft, just before Trojans defensive tackle Jurrell Casey.
Virginia's starting safety, Rodney McLeod, also missed the Richmond game. London called him a game-time decision as well.
Three other Cavaliers to watch:
QB Marc Verica: Two years ago, he threw for 200 yards or more in six straight games, tying a school record set by Matt Schaub, now the Houston Texans' QB.
WR Kris Burd: He led the team in receptions (31) and receiving yards (414) as a freshman.
LB Steve Greer: He's another sophomore who played a lot last year, piling up 92 tackles, including 6.5 for loss.