Monte Kiffin was on a roll.
Surrounded by a group of reporters eager to know what he had to fear from a Minnesota team coming off a home loss to South Dakota, Kiffin, 70, turned a post-practice interview session into a college football history class, a funny one.
Kiffin got animated.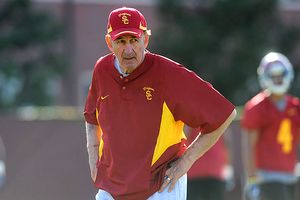 Chris Williams/Icon SMI
Monte Kiffin told a tale of Murray Warmath to anyone who would listen.
"This quarterback, now, he's in the process of breaking the all-time records of the University of Minnesota," Kiffin said. "Now, in 1960 in Minnesota with Murray Warmath, they won the Rose Bowl and the national championship. There's a lot of records to be broken at the University of Minnesota. Now, this quarterback is breaking these records. I'm serious, god-dang it."
The Trojans' veteran defensive coordinator insists he has reason to be concerned and he might -- might -- be right. USC shouldn't have much trouble moving the ball against an inexperienced Minnesota defense -- unless, of course, it continues to commit penalties left and right -- but the USC defense could have some challenges to contend with Saturday.
Golden Gophers quarterback Adam Weber either knows what he's doing or he's been fooling his coaches for a long time. Weber is the second-most experienced quarterback in the nation behind Houston's Case Keenum and he holds the Gophers' career records for completions, attempts, touchdowns and -- Kiffin didn't mention this one -- interceptions.
Weber's quarterback efficiency rating is a stellar 145, though Minnesota's first two opponents have been Middle Tennessee State and South Dakota. So, how did they lose to South Dakota, a mediocre second-subdivision team?
"They got in a shootout and lost, but I'm telling you, offensively, they're a god-danged good football team," Kiffin said. "This team last week was pretty good. This team's better. I'm not making this stuff up. They put it on tape. Look at the tape. Look at the stats."
Here are a couple of stats Kiffin didn't mention: Minnesota finished last in the Big Ten and 113th in the nation in sacks allowed last year and the Gophers had the league's worst rushing game. There are signs that they've learned to run-block better, as junior running back Duane Bennett has 376 yards the first two games.
But unless the offensive line has improved dramatically since last year, the USC defense might not be as stretched as Kiffin intimates. Then again, the Hawaii game two weeks ago proved Kiffin's players aren't exactly seasoned veterans. It typically takes time for defenses to learn and trust Kiffin's Tampa-2 defense.
After giving up 588 total yards in the Hawaii game, USC ranks ninth in the Pac-10 in overall defense. Kiffin's reaction?
"When you're not ranked very good, you don't look at the rankings," he said. "Rankings aren't important. Now, if you're not winning and you're doing good in the rankings, then the rankings are important."