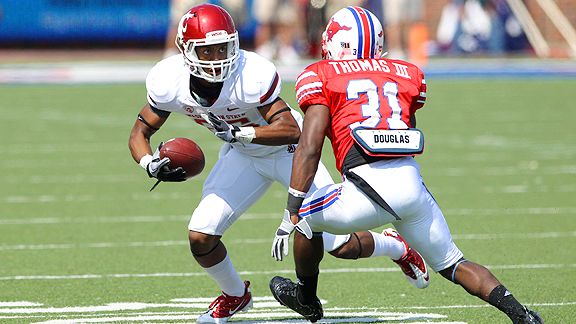 Vladimir Cherry/US Presswire
Washington State receiver Marquess Wilson, left, grew up in Tulare.
To shock USC on Saturday in the Palouse would mean the world to a lot of people around a struggling Washington State program. Even one of the youngest Cougars, who hasn't yet lost to the Trojans, has an extra bounce in his step this week.
"It would mean a lot, knowing we could turn heads and show people that we're here to play," freshman receiver Marquess Wilson said.
Wilson grew up a few hours north of USC's campus, in Tulare. A Trojans assistant coach dropped by during his junior year to give him some information, but he never heard from USC again. He wound up committing to Washington State, because the campus reminded him of home -- an agricultural community with a family atmosphere.
Now, he has twin motivations -- a California upbringing and lack of recruiting attention -- pushing him this week. "Both, actually," Wilson said. Of course, USC is used to competing against players like that, since Pac-10 rosters are loaded with Southern California kids.
One reason Washington State has languished near the bottom of the Pac-10 so long is because the Cougars haven't found explosive offensive players. Wilson could help change that. He already has four catches good for 40 yards or more. That's more than any Cougar had in all of 2009.
Washington State coach Paul Wulff promised freshmen would be given a chance this year and he wasn't kidding. The Cougars have used seven true freshmen this season, more than USC, which signed a highly regarded recruiting class last February.
USC safety T.J. McDonald, who also grew up in the Central Valley, in Fresno, said it's clear Wilson has big-play potential. Wilson is 6 feet 3, 175 pounds with a basketball and soccer background, so you would expect him to have good leaping ability and solid footwork.
"I know he turns some heads up there," McDonald said. "On film, he definitely jumps out at you."
Unlike the older players on his team, Wilson hasn't had to endure entire year after year of futility. The Cougars are 4-24 since Wulff arrived before the 2008 season. They were 5-7 in Bill Doba's last year. That means seniors on this team have a collegiate record of 9-31, not exactly uplifting stuff. Wilson thinks he can help lead the collective turnaround. In the early part of this decade, the Cougars were a yearly contender.
"That's exactly why I wanted to come here," he said. "We have the potential and talent to do that."