EAGAN, Minn. -- Things were a lot different at this time a year ago for Minnesota Vikings receiver Adam Thielen. Four games into the 2018 season, he was averaging 100 yards receiving a game. In Week 5, he cemented his name in history, becoming the first player in the Super Bowl era to have 100 or more yards receiving in each of his team's first five games. The streak continued through Minnesota's first eight games.
Given how things have played out for the Vikings offensively this season, the days of Thielen being one of league's best receivers feel like a distant memory.
After four games last year, Thielen had 56 targets, 40 catches and 473 yards. In the same time frame this season, Thielen has 22 targets, 13 catches and 178 yards.
It's the same for receiver Stefon Diggs, who notched two 100-yard receiving games a year ago against the Green Bay Packers and the Los Angeles Rams. He had 44 targets, 27 catches and 311 yards in the Vikings' first four games of 2018. This season he has struggled to be a consistent part of the offense outside of a handful of catches that boosted his stats when Minnesota trailed in Chicago (19 targets, 13 catches, 209 yards).
With a quarter of the season played and the Vikings (2-2) winless against division opponents, there's a head-scratching issue that has yet to be solved. What's happened to the Vikings' two 1,000-yard receivers?
Let's start with Minnesota's run-heavy scheme, which isn't placing as much of an emphasis on the passing game. Four games into 2018, quarterback Kirk Cousins led the league in dropbacks (211) and passing first downs (74) and the offense ranked in the top 10 in passing yards, completion percentage, passer rating and touchdown-to-interception ratio.
Thielen and Diggs were featured heavily in the pass-heavy attack while running back Dalvin Cook, who sustained an injury late in Week 2, wasn't a consistent threat.
Vikings coach Mike Zimmer has spent the past 11 months emphasizing a more balanced offense. After four weeks this season, the Vikings' dropback percentage and designed rush percentage hit the 50-50 split, but those numbers don't illustrate how skewed the balance is in Minnesota.
The Vikings are a run-first team, and with Cook's dynamic skill set, there's reason to believe the strategy will work -- some of the time. A more realistic view, as Thielen described after the Bears game, is eventually Minnesota's ground game will be stopped and it will need the passing game to beat good teams with good defenses.
"At some point, you're not going to be able to run the ball for 180 yards, even with the best running back in the NFL," Thielen said after the loss in Chicago. "That's when you have to be able to throw the ball. You have to be able to make plays. You have to be able to hit the deep balls.
"You have to do that, because otherwise, it's too easy for teams to just tee off and rush the quarterback. We have to be able to run the ball and pass the ball. In this league, you can't be one-dimensional. It's just too easy to defend."
Thielen's 6 receiving yards in Chicago were the fewest he's had in a game since Week 16 of 2015. Diggs' seven catches for 108 yards were padded by a 39-yard reception and throws when the Vikings were trailing in the second half. They have seen their targets shrink from the first four games a year ago, down from 28 to 21% for Thielen and 24 to 21% for Diggs.
Thielen's comments in Chicago reveal a surprising trend. The deep-ball game isn't where it was a year ago. In the first four games of 2018, Thielen caught seven of 13 passes thrown 15 or more yards downfield while Diggs hauled in three of 11 passes from that distance. Now, both receivers have just three deep ball catches each.
That boils down to quarterback play, and there are multiple examples to pull from in Chicago. The would-be 47-yard touchdown Cousins missed to Thielen could have tied the game 7-7 in the first quarter, and checkdown passes went to fullback C.J. Ham (who had more targets than Thielen and Diggs combined until the third quarter) when both standout receivers repeatedly found their way open.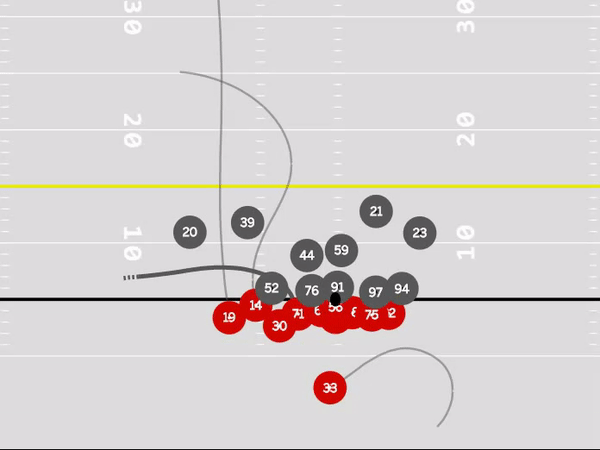 Some of that is the byproduct of balls not placed where they need to be. Cousins has overthrown five passes that have traveled 15 or more air yards. But when you take a deeper look at the numbers, they show this isn't just a deep-ball problem. Of Thielen's nine incompletions in 2019, five have been overthrown passes. Of Diggs' six incompletions, two have been overthrows.
Cousins is 7 of 13 with two touchdowns and zero interceptions on deep balls, but the lack of explosive pass plays is noticeable. One area where that's evident is play-action with Cousins ranking 30th among 35 qualified QBs with just 5.2 air yards per attempt, according to ESPN Stats & Information. Only six of Cousins' 29 play-action attempts have been thrown 15 or more yards downfield, while his completion percentage (65.5) ranks 18th, his yards per attempt (6.8) ranks 27th and QBR (70) is 13th.
Cousins is also being pressured on 34% of his dropbacks this season. That's the third-highest rate among all QBs, which is alarming given the emphasis placed on this offensive line's new blocking scheme that is supposed to better protect its QB.
Instead, Cousins was sacked six times in Chicago.
"We've got to work on that," Zimmer said of the pass-protection issues.
Zimmer noted Monday there were times Cousins might have gotten rid of the ball too soon because the pressure led to him "getting pounded a few times," which would explain why Thielen and Diggs were left open so often at Soldier Field.
But this isn't an anomaly. Thielen and Diggs feel like afterthoughts in this offense. Two of the top receivers in the NFL are being underutilized, and it's hurting the Vikings' offense.
Despite the issues Cousins is facing under pressure, Zimmer wants see him be more aggressive in the passing game. Getting his top receivers more involved often takes this offense from a one-dimensional attack to a multifaceted scheme that will be harder to stop.
"There's times where you've just got to pull the trigger, you've just got to believe that you're going to make the throws," Zimmer said. "There were some times where he got the ball out really good. The one behind Adam, just a little bit behind him, he got that ball out good. There were some other ones. We've just got to keep working on it."