Fighters have a constant psychological need to reinvent themselves. Losses are not losses because of inferior skills, but rather because of variables that must be in their control. The alternative is that they simply weren't good enough, and this is an impossible thought to have.
[+] Enlarge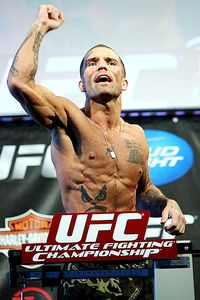 Sherdog.com
James Irvin wasn't exactly fit for a fight with Alessio Sakara.
James Irvin's choice of metamorphosis was a common one: stripping himself of water weight and mass to slide down a weight class. In some cases, this can mean dicing off some excess flab that wasn't doing you much good in the first place. (Lyoto Machida, very fit at the moment, was actually chubby during his Japan tour.)
But when you arrive -- as Irvin did -- to the weigh-ins looking like you just pried yourself out of a coffin, you should consider that you have taken things too far.
Irvin lost the fight in unspectacular fashion to Alessio Sakara, grimacing as a knuckle sunk into his eye socket and then watching as the referee waved off the fight; Dana White insisted to MMAJunkie.com that Irvin will not make 185 pounds again.
It's a mandate that any commission should be eager to enforce. While most fighters routinely suffer a weight cut, there does come a point (or a pound) when the body is being abused rather than tested. Seeing Irvin's cheekbones protrude like softballs in a sock is a good indication that his own alteration needs to involve training or strategy, not drying out to the point of withering.
It's striking how some fighters literally sway on the scales in an effort to embrace every conceivable advantage, while others -- B.J. Penn, Randy Couture, Anderson Silva -- run toward bigger opposition. Irvin is certainly a fighter, but he is also his own worst opponent.