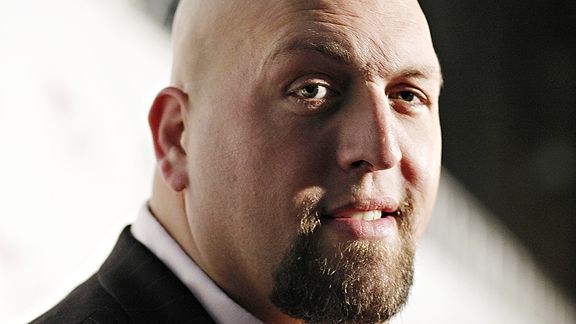 AP Photo/Dan Steinberg
If "The Big Show" is a mixed martial artist, then Vince McMahon is Francis Ford Coppola.
In the spirit of the great film studios announcing closure of classics such as "Gone with the Wind" and "The Godfather," the WWE has announced that production is complete for "Knucklehead,"
a film starring Paul "Big Show" Wright. This would normally be cause for alarm in any context, but MMA fans might feel especially unnerved by the idea that Wright portrays Walter Krunk, a church orphan who finds himself in a New Orleans mixed martial arts tournament.
Tweet, tweet
Don't miss a moment of the latest MMA coverage from around the world. Follow us on Twitter and stay informed. Join »
"The kitchen fire Walter caused will close down the church's orphanage in a week unless he comes up with $50,000," reads the synopsis. "Upon overhearing Walter's predicament, Eddie convinces the no-nonsense head nun, Sister Francesca, that Walter can win the $100,000 grand prize at the tournament to pay off the church's debts." (Never mind who Eddie is. This is as detailed a summary as I'm willing to offer.)
"Knucklehead" is an intentional comedy, which means the WWE's surprising embrace of MMA could feature some groin shots to the sport's growing influence. Since I doubt any of Dorothy Parker's descendants had a hand in the script, I don't anticipate they'll be all that cutting.
The film is scheduled for a Target bargain bin release sometime in 2010. In the interim, I sincerely hope there's a plastic shortage. The first order of business would be, naturally, to melt all copies of "The Marine."