In and out of the cage, Rich Franklin is making a career out of lateral movement: Bumped from the middleweight division by Anderson Silva, he appears to have settled into a complacent role as filler putty for headlining holes in the UFC's main events.
For Franklin, UFC 93 was a light heavyweight bout against Dan Henderson; UFC 99, a catchweight bout against Wanderlei Silva; now there's Dallas and UFC 103, which sees him in another 195-pound fence-straddle against a returning Vitor Belfort.
It's hard to ascertain exactly what the fight means: Franklin is supposed to be a 205-pound presence, so beating Belfort -- who eyes the 185-pound division -- can't influence that much. Belfort has more to gain here.
But, hey -- plenty of titles and plenty of contenders. Sometimes a fight is just a fight. And Franklin has yet to have a dull one.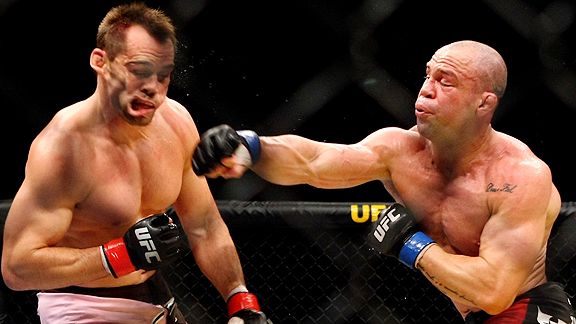 Lars Baron/Bongarts/Getty Images
Win or lose, Rich Franklin, left, is never in a bad fight.
What: UFC 103: Franklin versus Belfort, a 13-bout card from the American Airlines Center in Dallas, Texas
When: Saturday, Sept. 19, at 10 p.m. ET on pay-per-view, with an undercard broadcast at 9 p.m. ET on Spike
Why you should care: Because Belfort finally has the emotional maturity to match his physical development; because Mirko Filipovic can pop up as a serious title contender if he looks effective against Junior dos Santos; and because Frank Trigg is facing his worst nightmare -- a younger, cockier wrestler in Josh Koscheck. Himself, basically. It's like time travel in a B-action movie.
Fight of the night: Franklin-Belfort, assuming Belfort doesn't fade in the second; Koscheck-Trigg if they follow the pattern of wrestlers who want to stand and strike.
Sleeper fight of the night: Drew McFedries-Tomasz Drwal. McFedries only needs to train for a one-round fight. Win or lose, he's never seen Minute 6 in the UFC. So-so for his career, great for fans.
Pre-emptive complaint: Paul Daley is going to get shut right down by Martin Kampmann: It would've been nice to see him against someone who couldn't smother him on the ground right off.
Hype quote of the show: "Frank wants to try to get back into the limelight and try to get eventually a title shot and he's got to come through Josh Koscheck to do that."-- Koscheck, invoking the always-alarming technique of third-person speech.
Back Against the Mat (BAM): UFC 103 Edition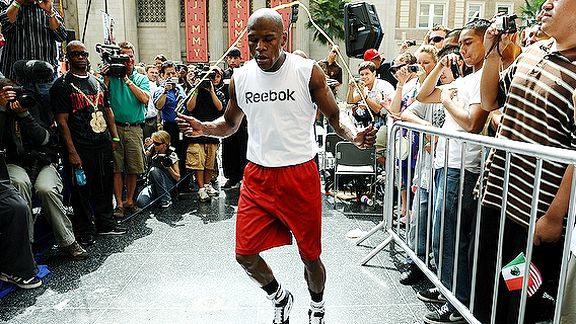 Gene Blevins - Hoganphotos/Golden Boy Promotions
Will all eyes be on Floyd Mayweather or on the UFC come Saturday?
Unemployment is on the rise everywhere. A few guys who can't afford a loss Saturday:
Mirko "Cro-Cop" Filipovic. Performances against Gabriel Gonzaga in the UK and Alistair Overeem in Japan dulled his shine considerably: He can't look bad against a largely unknown Junior dos Santos without virtually terminating his career.
Drew McFedries. He brings it, but a possible 4-5 record in the UFC is a stretch.
Rafael dos Anjos. A 155-pound class with a surplus of talent can't abide by an 0-3 participant.
Floyd Mayweather. The insult-a-second boxer doesn't think MMA is a threat to boxing; if it comes within a few thousands homes of beating his bout with Juan Manuel Marquez on Saturday -- or worse, exceeds it -- he's going to have to spin a new broken record.
Five questions: UFC 103 edition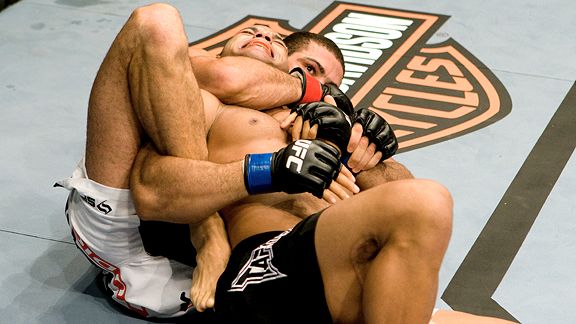 Josh Hedges/Zuffa/UFC
Another subpar showing like this and Drew McFedries could be looking for another line of work.
Q: Will Vitor Belfort shrink?
A: Even if you excuse his dynamic debut performance at UFC 13 -- all hands, no effort -- as the product of subpar opposition, Vitor Belfort is still a sharp, tight stand-up artist who can end fights faster than IV sedation.
The ticks of the clock are Belfort's biggest issues: As the fight wears, he fades mentally and instructs his body to do the same physically. Whether that's been corrected at Xtreme Couture hasn't been discovered. Rich Franklin will prompt him for an answer.
Q: Does the old guard have anything left?
A: Frank Trigg, Vladimir Matyushenko, and -- to some extent -- Mirko "Cro-Cop" Filipovic all bounced out of the UFC after a series of poor performances, only to return based on either strong performances in other promotions, or the UFC's desire to deplete the open talent pool for rivals. Is that employment based on genuine curiosity over their chances, or a business strategy? (Trigg, Filipovic or Matyushenko getting chewed up in the UFC makes them far less attractive to other networks.)
Q: Can Tyson Griffin break through?
A: It's hard to process that Tyson Griffin loses fights: He's a steam ship in the diminutive lightweight division with fantastic cardio, a solid punch and the ability to control. A record of 6-2 in the UFC may not look great compared to Gray Maynard's 6-0, but he's been fighting nothing but tough competition. With a win over Hermes Franca, should Griffin and Maynard decide 155's next contender?
Q: Can effort trump results?
A: UFC brokers are fond of saying that they want fighters who come to fight -- but when does that begin to steamroll mixed results? Drew McFedries has never been in a boring contest, but he's 4-4 heading into Saturday. At what point do you acknowledge that gamesmanship runs second to getting your arms held up?
Q: Can Rich Franklin bank some money?
A: As a company man who fights when, who and where he's asked, Franklin deserves a financial mattress as his career winds down. But if his salary is business-incentive-based, he's got issues: Buyrates for Franklin-headlining cards are usually on the lower end of the scale. Whether a card airing live from the states changes that -- fans usually balk at delayed cards from the UK, where Franklin took up temporary residence -- or not, the loyalty is admirable. And it should be rewarded.
Red Ink: Belfort versus Franklin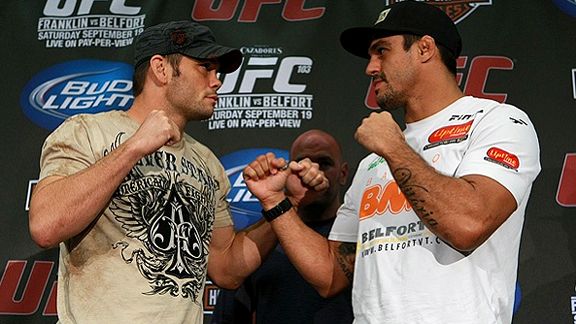 Dave Mandel
Don't expect Rich Franklin, left, to welcome Vitor Belfort back to the UFC with open arms.
In six years of UFC competition, only two men have defeated Rich Franklin, and both of them happen to be the two best middleweights in the sport. Franklin's secret appears to be that he wants it as badly in the closing 30 seconds of a bout as most do in the opening 30. His motivation doesn't wither. And that's a pretty big deal.
Vitor Belfort's motivation has been the anchor of his career: He has all the natural talent anyone could ask for, top-notch training and a particular skillset -- fast, dangerous, heavy hands -- that you can't replicate. But he wants things to go his way. And when they don't, he checks out.
Belfort throws straight down the line; Franklin loops. Belfort fades late; Franklin sucks it up. It's not about who has heavier hands, but who can keep them up longer.
Might look like: Belfort versus Chuck Liddell, with Belfort dropping a decision to the busier striker; or Franklin-Wanderlei Silva, with Franklin eating some artillery, covering to regroup and picking at an opponent tired of hitting him.
Third-party investor: The UFC, which is in dire need of a middleweight contender to excite both fans and champion Anderson Silva. Belfort in a win over a durable Franklin sends him right to the edge.
Who wins: Franklin. He's too cautious to suffer a blitz, too strong to toss and too conditioned to outlast.