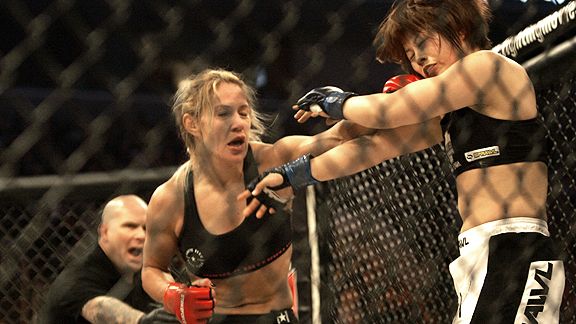 AP Photo/Jeff Chiu
Cristiane Santos, left, will finally get it on with Gina Carano.
Five Ounces of Pain has learned that Strikeforce's Aug. 15 women's title bout between Gina Carano and Cristiane "Cyborg" Santos will go a full five rounds.
Ever better: Strikeforce has confirmed to ESPN that rounds will be a full five minutes in duration. About time. There appears to be evidence that females have a 10-15 percent lower oxygen consumption rate than men do, which conceivably could limit the kind of interval and muscular endurance performance that MMA demands, but is it really by so much that they needed competition duration reduced by nearly half?
Hopefully, subsequent women's bouts will follow suit. If any division is in need of curtailed rounds for the safety of participants, it's the sloppy super heavyweights. A blended cheeseburger is not a proper postworkout recovery drink.