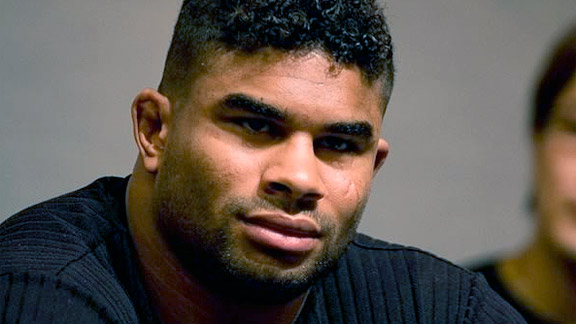 Daniel Herbertson/Sherdog.com
Some advice to unsuspecting bouncers: You won't like Alistair Overeem when he's angry.
It's funny how simple twists of fate -- or in this case, horrific street violence -- can prompt a change of plans: Alistair Overeem's trainer, Bas Boon, told Fighter's Only thatOvereem damaged his hand by beating up five bouncers at a nightclub. The resulting infection forced him to drop out of a planned June 6 Strikeforce title defense. (Andrei Arlovski is his rock-solid replacement.)
Ask ESPN.com's MMA blogger
Have a question? Want to leave a comment related to this blog? Send your thoughts to jrossen@sherdog.com.
Apparently, Overeem drew the ire of security when he didn't have any Euros to "pay the toilet woman." (In Holland, having a full bladder apparently results in some kind of surcharge.) The argument escalated, and soon Alistair and his brother, Valentijn, found themselves in a spontaneous sparring session.
"Three security guards dived onto Valentine and brother Alistair wanted to go back inside to help his brother," Boon said. "This resulted in five security guards in the hospital."
Sounds like an instructional waiting to happen.