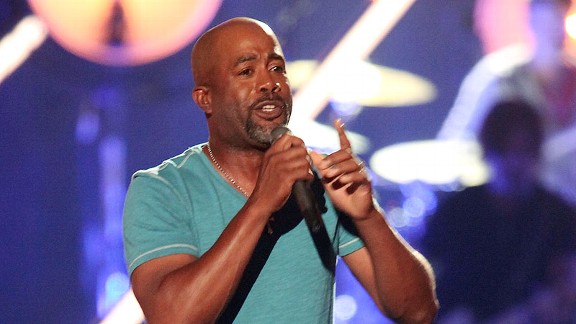 You can admit it: When Darius Rucker left Hootie And The Blowfish behind to pursue a country music career, you weren't sure it was going to last. After all, "Cracked Rear View" sold a zillion copies, won a Grammy award (for "Let Her Cry") and spawned hit after hit. Why mess with success?
Ahh, but when Rucker performed a short acoustic set at the ESPN cafeteria on Wednesday, the song that got employees singing along was "Wagon Wheel," the first single off his third country album, "True Believers." His performance of "Wagon Wheel" with Lady Antebellum at the CMT Awards on June 6 brought the audience to its feet, and both the single and the album have hit No. 1 on Billboard's country charts. The Old Crow Medicine Show song, based on a Bob Dylan melody, is at No. 3 and has been on the Billboard Hot Country chart for 22 weeks.
"I love the music," Rucker said Wednesday in a SportsNation chat on ESPN.com. "I said from the late 80s that I would go to country. I think it's going awesome, probably 100 million times better than I thought it would."
The response to the album so far has been fantastic, he said. "It's been huge. Really better than we thought it would be. Surprisingly, critically acclaimed. It's been great."
While Rucker is gearing up to tour behind "True Believers," he's also keeping an eye on the NFL and working on his golf game as much as five days a week. "I shot even par at my home course. It's the best score I've ever had," he said. "I'm going low someday, real soon."
During his chat with SportsNation, Rucker was asked about the two teams closest to his South Carolina roots -- the Panthers and the Dolphins.
On Miami: "I expect to see a better season than last year. Hopefully [they'll] sneak into the playoffs at 10-6. But [they're] still a couple of years away from the Super Bowl."
As for the Panthers? "They have to go up from last year, so I hope they have a good year," Rucker said. "I have a bunch of friends in the organization, so I'm hoping. Cam (Newton) is a good QB, so I hope for good things."