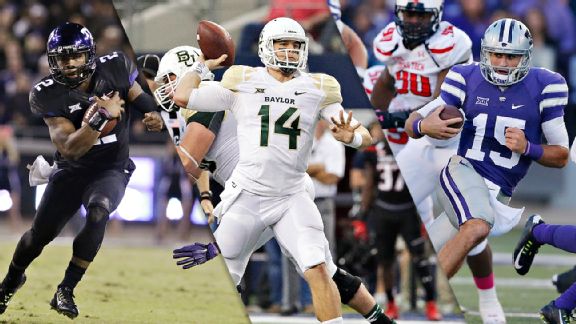 AP Photos
Trevone Boykin, Bryce Petty and Jake Waters lead the Big 12's top three teamsFor the first time in years, the SEC has been knocked off its perch as the top conference in the nation in ESPN Stats & Information's Conference Power Rankings.
The SEC was 0-4 in its SEC-ACC rivalry games, marking the first time since 2000 that Georgia, Florida and South Carolina each lost to its major in-state rival. The SEC is 5-6 (.455 win percentage) in nonconference games against other Power 5 opponents, which ranks third among Power 5 conferences.
Nonconference Games
vs. Power 5 Teams
The race for No. 1, however, is basically a tie between the Big 12 and SEC. The Big 12's rating is based largely on its strength at the top of the conference, which is measured by The Associated Press poll. The Big 12 has three teams -- TCU, Baylor and Kansas State -- in the top 10 of the AP poll, the most of any conference. Two of those teams will face off this weekend in Waco, Texas.
The Big 12 has a lower average Football Power Index ranking than the SEC and Pac-12, meaning that despite its strength at the top of the conference, it is not particularly deep. The Big 12 has four teams below 60th in the Football Power Index, which is as many as the Pac-12 and SEC have combined.
Nonetheless, Baylor, TCU and Kansas State are in the midst of strong seasons, and in a 10-team league, that has vaulted the Big 12 to the top of the rankings. In four of the first five College Football Playoff rankings, the Big 12 has been on the outside looking in, but the conference should have a strong argument for inclusion with Tuesday's release.
The biggest riser in the Conference Power Rankings this week was the ACC. After sweeping the SEC-ACC rivalry games Saturday, the ACC rose 7.0 points to nearly pull even with the Big Ten. Georgia Tech, Clemson and Louisville each rose at least three spots in the AP poll and continued to climb in the Football Power Index.
It has been an up-and-down season for many conferences. The Big Ten was buried early in the year before bouncing back, particularly against the ACC, in Weeks 4 and 5. The ACC was having a down year before it swept the SEC-ACC rivalry series in Week 14. Conference strength will play a role in the College Football Playoff selection, but just as there has not been a dominant team this year, there also may not be a dominant conference.
ESPN Stats & Information Conference Power Rankings