It has been a rough couple of years for the Florida State University athletic department in terms of off-the-field issues. And the Outside the Lines investigation that aired and published Sunday morning about 10 colleges and their athletes' involvement with campus and local police departments won't exactly help quiet FSU critics.
In the Outside the Lines report, Florida State had the second-highest number of football and men's basketball players named in criminal allegations from 2009 to 2014: 66 overall or 18 percent of the rosters. Further, in 70 percent of those incidents, the athletes never faced charges, had charges against them dropped or were not prosecuted. By comparison, cases ended up without being prosecuted 50 percent of the time among a sample of crimes involving college-age males in Tallahassee.
---
Florida State University
To determine how often crimes involving college athletes are prosecuted and what factors influence them, Outside the Lines requested police reports involving all football and men's basketball players on rosters at 10 schools from 2009 to 2014. The Florida State results: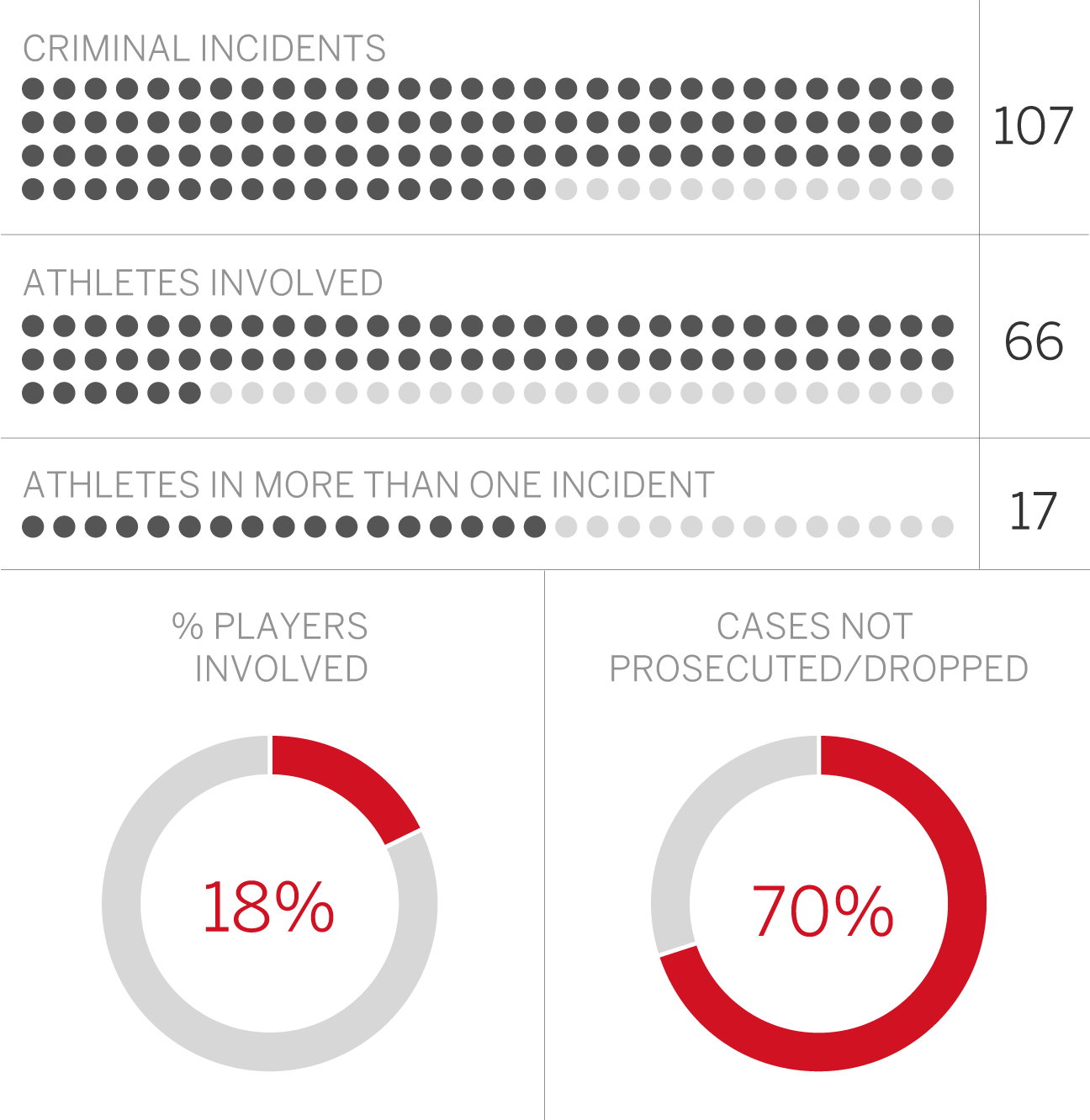 ---
A deeper look at the data offers additional insight: Florida State had the most alleged incidents of sexual assaults, harassment or violence against women than any of the schools in the Outside the Lines study, with 18. The lone case in which charges were filed was the sexual battery case against football player Gregory Dent, whom a jury convicted last year on the reduced charge of misdemeanor battery. An investigation into allegations of sexual assault against Florida State quarterback Jameis Winston ended with the state attorney declining to pursue criminal charges.
Tallahassee Police Chief Michael J. DeLeo, whose department handled most of the incidents, declined to be interviewed by Outside the Lines. But Florida State University Police Chief David Perry, when asked about the total number of incidents that allegedly involved women, said he wasn't discouraged because he believes the data "shows that people are willing to come forward."
"There is a culture here we try to establish that we want people to report incidents. We want people to come forward," he said.
The school with the second-highest number of allegations of sexual assault, violence against women and harassment was Missouri, with 12 cases and many repeat allegations. Four involved Missouri running back Derrick Washington, who was convicted of sexual assault in 2011. Two involved former basketball player Michael Dixon, and two involved wide receiver Dorial Green-Beckham, neither of whom faced charges.
Other schools had either no cases or just a couple; it is likely that a few police departments in Lavigne's study withheld reports under various state public records exemptions, especially in cases in which no arrest was made.
State attorney Willie Meggs, whose jurisdiction includes Tallahassee, said he wasn't sure why Florida State's numbers would be higher, but he said there was merit to Perry's assumption: "We have a lot of … publicity that all of our law enforcement and social service agencies do to encourage reporting and encourage involvement."
The one sexual assault case investigated by Florida State campus police involved a woman who said a football player raped her in a fraternity house in October 2012.
"We were shut down by the victim," Perry said. He said she requested the case be handled by the university's judicial affairs department, and she did not cooperate with law enforcement further. "I have no indication as to why," he said. The athlete, who was a sophomore, was not on the roster the next season.
Based on the narratives in the reports, Outside the Lines was able to find nine cases in which the victim declined prosecution.
Meggs said victims decline to move forward in sexual assault and domestic cases involving non-athletes as well, but the level of media attention and fan reaction when the suspect is an athlete can make it even more likely a victim will change his or her mind. But he said he has also seen instances in which the case dissolves because the victim admits nothing criminal actually happened.
Many of the cases involving FSU athletes were complex, with much of what allegedly happened coming down to one person's word against another.
The records also include four incidents -- involving three separate athletes and their girlfriends -- in which the male football or basketball player was listed as the victim in an act of violence either toward him or his property. One of the women was an FSU soccer player, and there was no record of her case being prosecuted. One of the girlfriends was convicted of criminal mischief, and the other had no record.