Three years after it happened, a fight involving a former Michigan State football player continues to spawn differing views about how the criminal justice system treats athletes.
The case turned up as part of an Outside the Lines investigation that examined interactions between local police and college athletes at 10 major colleges.
Overall, the Outside the Lines investigation found that what occurs between high-profile college athletes when they face criminal allegations and law enforcement is not as simple as the commonly held perception that police and prosecutors simply show preferential treatment to athletes, though that does occur. Rather, an examination of more than 2,000 police documents shows that athletes from the 10 schools, including Michigan State, mainly benefited from the confluence of factors that can be reality at major sports programs: the near-immediate access to high-profile attorneys, the intimidation that is felt by witnesses who accuse athletes, and the higher bar some criminal justice officials feel needs to be met in high-profile cases.
---
Michigan State University
To determine how often crimes involving college athletes are prosecuted and what factors influence them, Outside the Lines requested police reports involving all football and men's basketball players on rosters at 10 schools from 2009 to 2014. The Michigan State results: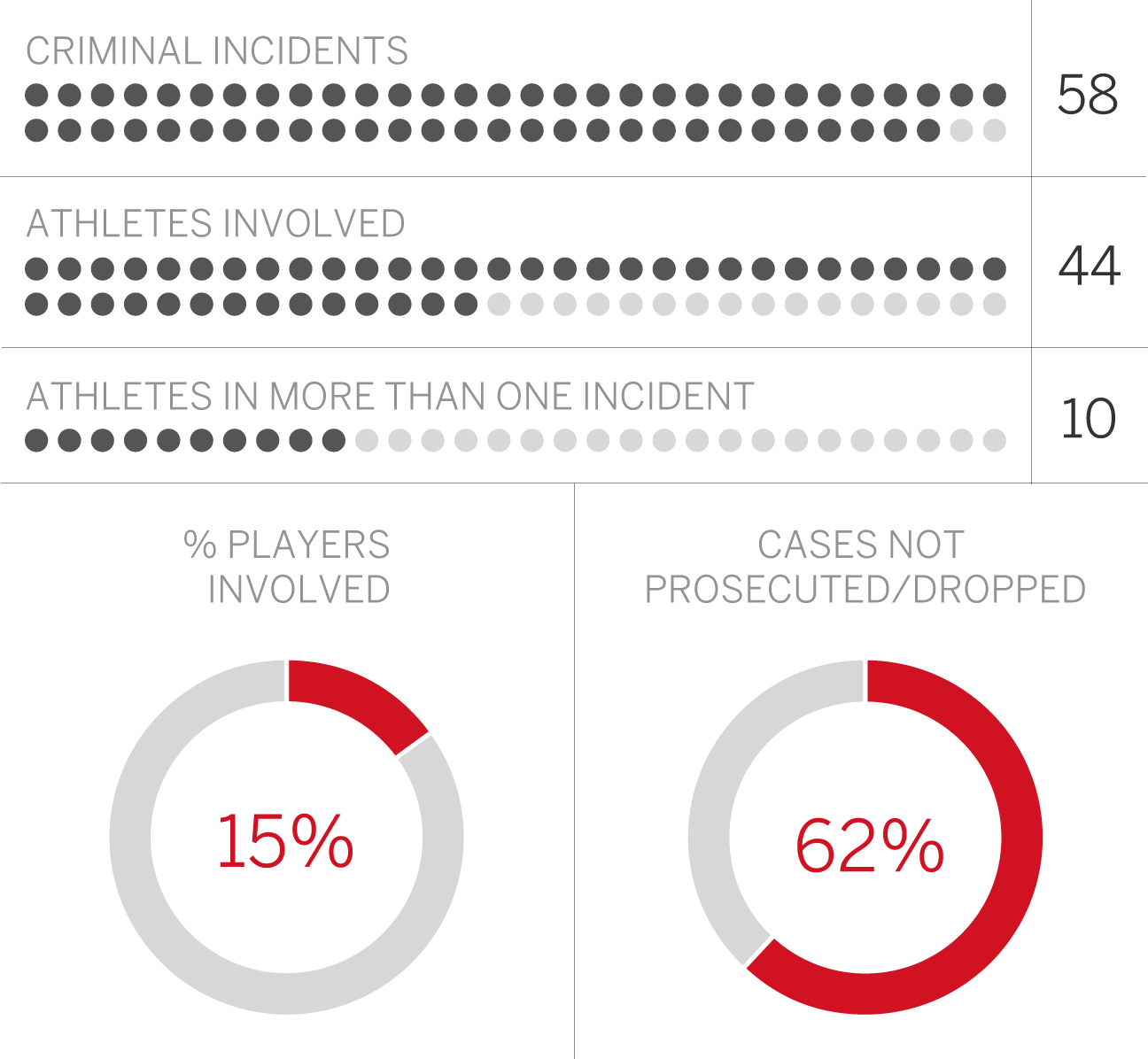 Note: MSU police redacted all names from police reports; therefore, it's not possible to accurately determine the total number of athletes or crimes. ESPN sued the university over the omissions and won, but the case is pending on appeal. The incidents not prosecuted or dropped category includes cases that were pleaded down to civil infractions, most often littering.
---
As part of its reporting, Outside the Lines obtained surveillance video and a police report from a 2012 incident involving Michigan State football player Chris D. Rucker, who was at an East Lansing restaurant standing up and talking to a woman seated at a table with four men. It's just one case -- out of thousands reviewed by Outside the Lines -- but it illustrates how both sides of an incident perceive how an athlete's status affects prosecution.
Rucker appears to slap -- although not forcefully -- a man seated at the table. At that point, another student, William Semaan, stands up on the other side of the table and advances toward Rucker. As he approaches, Rucker jabs at him, Semaan jabs back and then Rucker punches him with his right fist and Semaan falls to the ground, at which point Rucker and his friend leave.
Semaan, who needed stitches on his lip, told police he wanted to pursue charges, and they started looking for Rucker. Rucker told Outside the Lines he was shocked the incident turned into a big deal, because he figured it was just a mutual fight and he hadn't hit Semaan that hard.
"It was me being an athlete. It was me, me, me. What did I do wrong?" he said.
Rucker said he called a former player who worked for the East Lansing Police Department. "He told me to go to one of the campus lawyers. He said do not go and talk to [police] myself. "
He said the lawyer told him to be prepared to face a misdemeanor charge.
"[He] said basically, they know that your name is associated with MSU athletics and that they would probably try to go after it. Probably put pressure on the guy to come forward just because of it," Rucker said.
The officer spoke to Rucker's attorney who said Rucker would not give a statement to police, according to the report. Ultimately, the Ingham County Prosecutor's Office decided not to pursue charges.
Semaan told Outside the Lines he suspects the reason no charges were pursued has to do with Rucker's status as football player.
"I have no doubt in my mind [prosecutors] have to receive some sort of pressure," Semaan said. "They've got my statement. They got the whole thing on camera. Some people get charged when it's not on camera."
Ingham County prosecuting attorney Stuart Dunnings III said his office does not receive pressure from fans or athletic department officials, and he named several examples of high-profile cases involving Michigan State athletes that did end in charges.
The Outside the Lines analysis comparing cases involving Michigan State athletes and a sample of cases involving college-age males in East Lansing showed no substantial overall difference in how, or whether, the cases were prosecuted. Several incidents from Michigan State campus police were not able to be analyzed, though, due to an ongoing dispute involving ESPN's public records requests pending in Michigan courts.
Dunnings reviewed the Rucker case and video and said the scenario is common in East Lansing.
"If he was approaching him in a threatening manner and coming up saying, 'I'm going to kick your a--,' I don't have a problem with him getting hit," Dunnings said. "If you're in a general melee and people are pushing and shoving and someone comes up to you, you have a right to defend yourself."
Many cases are a judgment call on whether or not the evidence would prove someone guilty beyond a reasonable doubt, which is the standard in criminal cases, Dunnings said.
"It's not ethical to charge a case if you don't believe you're going to prevail," he said.
After Outside the Lines questioned Dunnings about the incident with Rucker, he decided to use the case as an example during multiple speaking engagements with high school students. In the one class that was divided, he said a majority of the students said they wouldn't have filed charges, but when he told them who the suspect was, that changed perspective for some students.
"After I told them he was a football player, they felt his physical superiority placed more responsibility on him not to initiate such behavior," Dunnings said.