An examination last year of how the University of Missouri athletic department handled off-the-field issues involving some of its athletes was the impetus for a broadened Outside the Lines investigation, released Sunday, that studied similar issues at nine other major football and men's basketball programs.
To determine how often crimes involving college athletes are prosecuted and what factors influence them, Outside the Lines requested police reports involving all football and men's basketball players on rosters from 2009 to 2014 from campus and city police departments covering 10 major programs: Auburn, Florida, Florida State, Michigan State, Missouri, Notre Dame, Oklahoma State, Oregon State, Texas A&M and Wisconsin.
---
University of Missouri
To determine how often crimes involving college athletes are prosecuted and what factors influence them, Outside the Lines requested police reports involving all football and men's basketball players on rosters at 10 schools from 2009 to 2014. The Missouri results: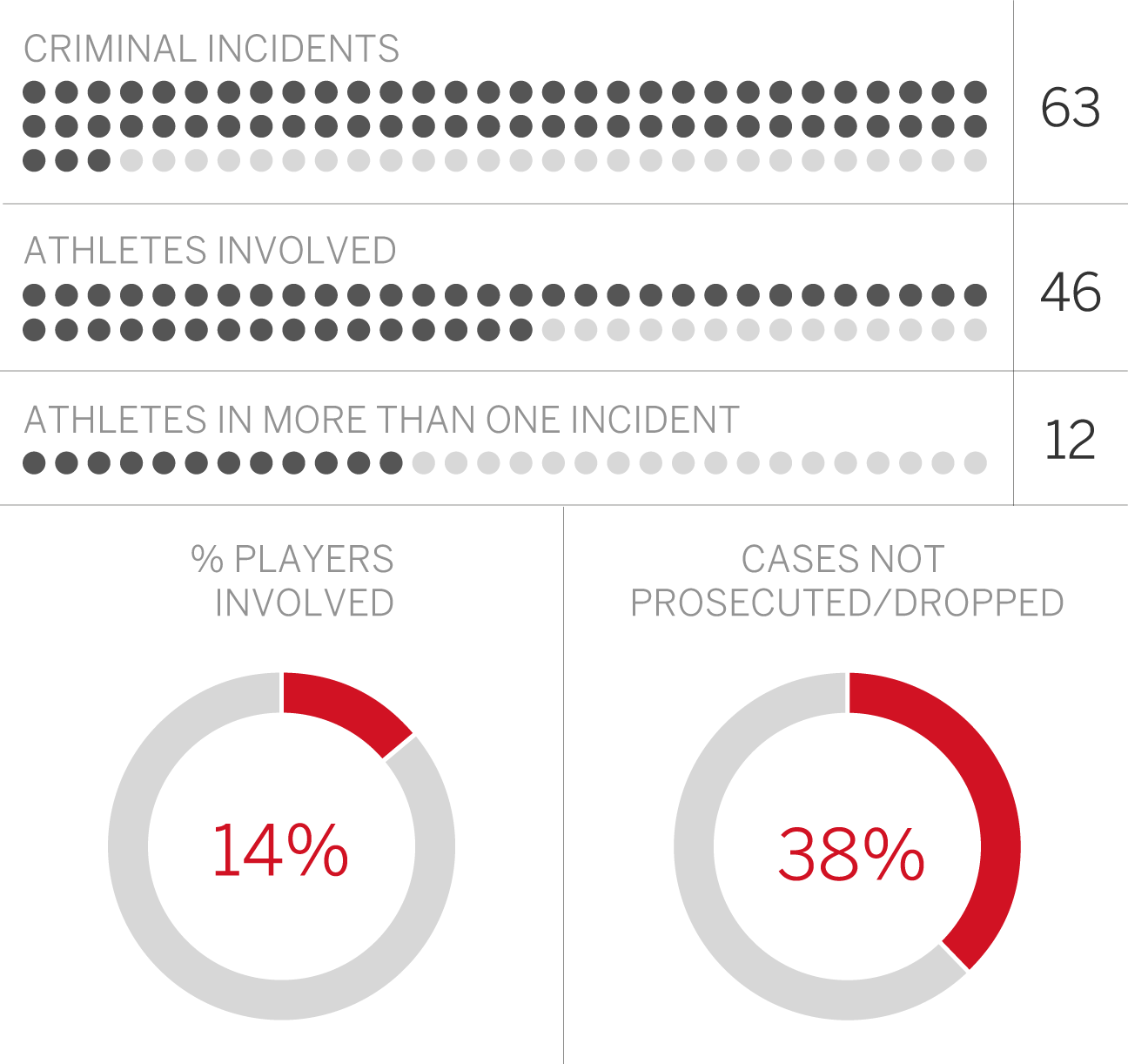 ---
The roster-police report examination was initially completed by Outside the Lines at Missouri, when reporters investigated criminal allegations against former football player Derrick Washington. That report, published in August 2014, detailed how Washington faced multiple allegations during his time at Missouri: the rape of a fellow student in October 2008, punching a women's soccer player in May 2010, sexually assaulting his former tutor in June 2010, and beating up his ex-girlfriend in September 2010. He was convicted of the last two offenses. Washington, who was suspended from the team after being charged with sexual assault, left Missouri after the 2010 beating allegation.
In that story, Outside the Lines reported the soccer player told police that her coach said she might lose her scholarship unless she dropped the assault allegations against Washington. That kind of pressure was found at other colleges in Sunday's more expansive investigation and was part of Outside the Lines' overall finding: that what occurs between high-profile college athletes and law enforcement is not as simple as the commonly held perception that police and prosecutors simply show preferential treatment, though that does occur. Rather, the examination of more than 2,000 documents showed that athletes from the 10 schools mainly benefited from the confluence of factors that can be reality at major sports programs: the near-immediate access to high-profile attorneys, the intimidation that is felt by witnesses who accuse athletes, and the higher bar some criminal justice officials feel needs to be met in high-profile cases.
Missouri had 63 criminal cases involving 46 athletes during the five-year time period. Twelve athletes were involved in more than one incident, Outside the Lines found, and Missouri had the second-highest number of allegations of sexual assault, violence against women, and harassment. Florida State had the most.
In several of the Missouri cases, victims declined prosecution because of the suspect's status as an athlete and/or because they feared unwanted publicity and harassment from fans.
In one case, a woman reported to police that her ex-boyfriend, a football player, was threatening to post explicit photos of her online, and she implied that he had hit her, according to a police report. But the officer wrote that she stated "she did not want me to contact the MU athletic department" and she dropped the case, telling the officer that she was moving out of Columbia.
In a 2010 rape case against basketball player Michael Dixon, the alleged victim declined to press charges, and one of her reasons was fear of "the pressure and harassment from outside sources," according to police. "[She] stated she was concerned that since Dixon is a basketball player that no one would believe her about what happened and she may be persecuted for it." After a second allegation against Dixon, which also did not lead to charges, Dixon was suspended, left Missouri and transferred to the University of Memphis.
Allegations in April 2014 that football player Dorial Green-Beckham had injured a woman by pushing her down the stairs went nowhere after the woman's roommate -- who was dating Green-Beckham -- convinced her to not press charges. A police report states that the alleged victim "was afraid of being harassed and having her property damaged just because she was the victim."
It was not the first time that an incident involving Green-Beckham had been reported to police. In November 2012, a woman reported to police that he had pushed her into a doorframe several times after she accused him of cheating on her friend, whom Green-Beckham was dating. The woman told police that the people who witnessed the incident would lie to protect him, because he was a football player. When police interviewed the witnesses, they refuted her account and said she was the aggressor. Police declined to pursue charges.
About 18 months after reporting the incident, the woman emailed with police, whether her initial report was a public record that anyone could access. She told police that she was interested in speaking out about what happened in 2012, "but that she changed her mind after hearing about some of the negative attention other people involved with Green-Beckham were getting." Green-Beckham was dismissed from Missouri football on April 11, and officials cited the April 2014 incident and a prior marijuana arrest.
Outside the Lines contacted Green-Beckham's agent regarding the 2012 incident, which had not previously been reported in the media. He declined comment and did not make Green-Beckham available for an interview. Officials from the University of Missouri police declined to comment on specific cases; Columbia police department officials declined to answer questions due to the magnitude of the Outside the Lines request.