Outside the Lines on Sunday released a comprehensive investigation about how athletes at 10 major sports programs interact with police, and the Notre Dame football and men's basketball teams were included as part of the examination. The data surrounding Notre Dame programs, however, lack details found at the other nine institutions.
Reports released by South Bend (Indiana) police included just four incidents involving Notre Dame athletes as suspects from the time period Outside the Lines studied -- 2009 to 2014. Other police agencies covering the nine other programs offered up dozens of cases. And Notre Dame campus police declined to provide Outside the Lines any material at all, saying that the state's open records law did not apply to the police force because the university is a private entity.
---
University of Notre Dame
To determine how often crimes involving college athletes are prosecuted and what factors influence them, Outside the Lines requested police reports involving all football and men's basketball players on rosters at 10 schools from 2009 to 2014. The Notre Dame results: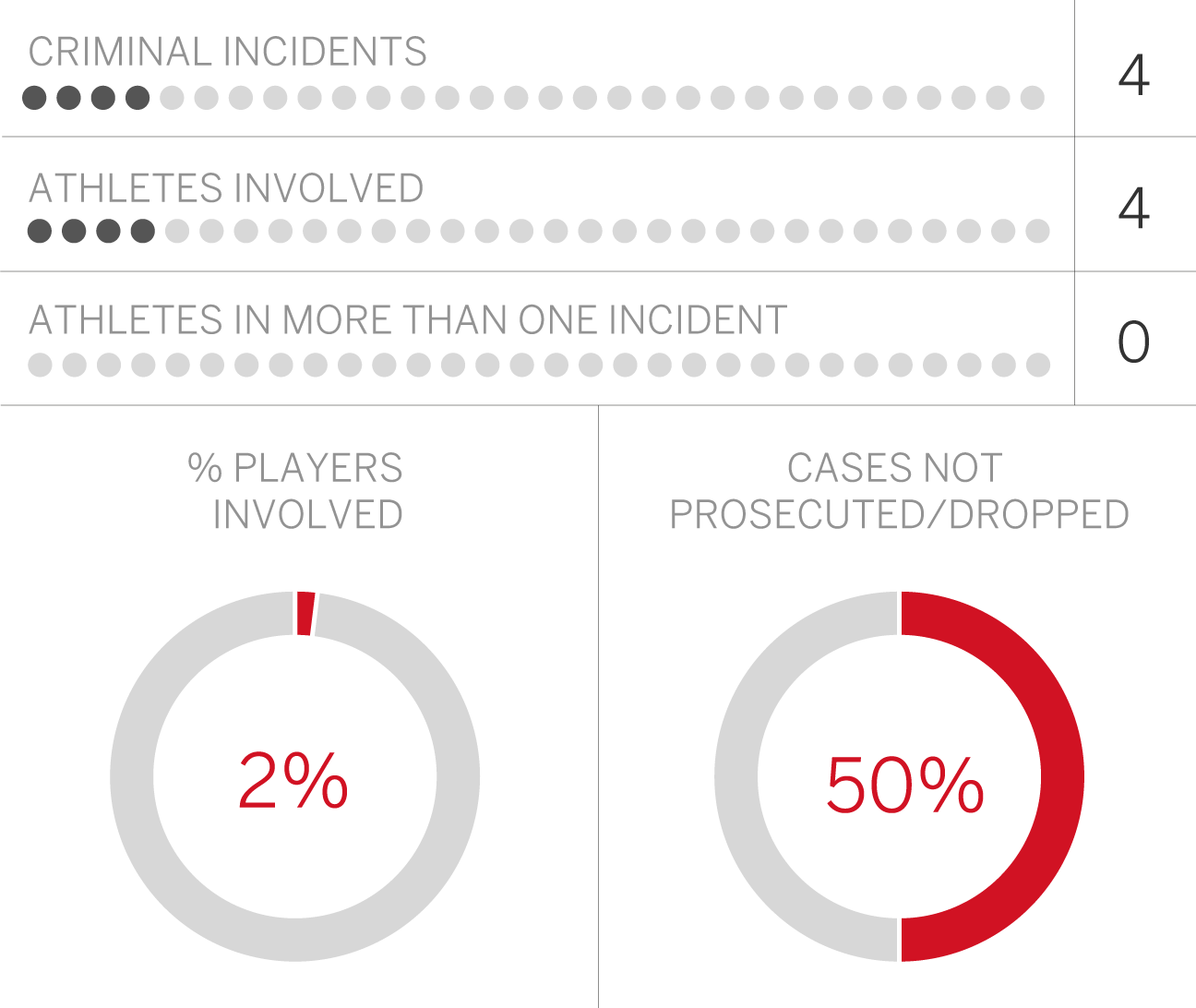 Note: Only data from the South Bend Police Department is included. Citing privacy laws, Notre Dame campus police declined to release information; ESPN sued for the data's release but lost the case, which is now on appeal.
---
When Outside the Lines began requesting police records last fall, a reporter reached out to the Indiana Public Access Counselor, a state agency that advises on public records law, about whether the Notre Dame campus police might actually be subject to the state's open records law even though most media have assumed the agency would not. The access counselor indicated that police should have to release records.
Notre Dame police, however, refused to turn over records despite a written opinion from the counselor, and ESPN and its reporter, Paula Lavigne, sued in St. Joseph Superior Court. On April 20, the judge ruled that although campus police officers were exercising state powers, that did not make the police department a public agency subject to open records law. Yet the judge noted "The court shares the public access counselor's discomfort with the notion that a private party can exercise police powers without providing to the public the access to records" required by state law.
Five states -- North Carolina, Georgia, Virginia, Texas and Ohio -- require that private universities make police records public.
One of the most notorious athlete-crime allegations in recent sports history involved Notre Dame and a St. Mary's College freshman named Lizzy Seeberg. In 2010, Seeberg told Notre Dame campus police that she was sexually assaulted by a Notre Dame linebacker. She would later commit suicide, and, five years since her death, her father told Outside the Lines he hasn't received as much as a police report from the police department's investigation into the alleged crime.
Tom Seeberg does know this, though, based on what police told him: Campus police didn't interview the athlete until two weeks after Lizzy Seeberg reported the allegations, by which point she was already dead. Prince Shembo, the athlete, was never charged.
Since then, Seeberg and others -- including a former Notre Dame campus police officer -- have criticized how the department investigates allegations of sexual assault and how it doesn't have to release information on any crimes, whether a traffic ticket, underage drinking, disorderly conduct or assault.
"They were completely obtuse," Tom Seeberg said. "They didn't have to share anything with us and because they didn't have to, they didn't do it."
Seeberg said he wants to see any felony complaint made on campus turned over to an independent law enforcement agency. He said campus police departments have an inherent conflict of interest, and the additional lack of transparency with Notre Dame means, "They get to control the truth."
The Outside the Lines report details the Seeberg investigation. Notre Dame officials did not respond to Outside the Lines' attempts for comment.
Notre Dame is somewhat unique among Division I top athletic programs in that about 80 percent of students live on campus. When the city of South Bend released reports responsive to Outside the Lines' request, only four incidents involving suspects who were athletes on the roster during the study's time frame were among them. The city attorney indicated that no records were withheld.
Of the two cases that were charged, one resulted in a conviction, and that was the incident from May 2012 in which quarterback Tommy Rees ran from police after being caught drinking at a party when he was a minor and he kneed an officer in the chest. Rees was convicted of underage drinking and resisting arrest.
South Bend police spokesman Phil Trent did not respond Outside the Lines' requests for comment about the department's handling of athletes. St. Joseph County Prosecuting Attorney Ken Cotter, whose office would handle cases from both police departments, said he gets "very few cases from Notre Dame in general" but did not provide a number.