An Outside the Lines investigation released Sunday used an incident in the Oklahoma State basketball program as an example of what can happen when college athletes are accused of crimes. The report, covering 10 major football and basketball programs, showed overall that while many athletes avoid prosecution when they are involved in alleged crimes, the reason is not as simple as the commonly held perception that police and prosecutors simply show preferential treatment, though that does occur.
Rather, the Outside the Lines examination of more than 2,000 documents shows that athletes from the 10 schools mainly benefited from the confluence of factors that can be reality at major sports programs: the near-immediate access to high-profile attorneys, the intimidation that is felt by witnesses who accuse athletes, and the higher bar some criminal justice officials feel needs to be met in high-profile cases.
---
Oklahoma State University
To determine how often crimes involving college athletes are prosecuted and what factors influence them, Outside the Lines requested police reports involving all football and men's basketball players on rosters at 10 schools from 2009 to 2014. The Oklahoma State results: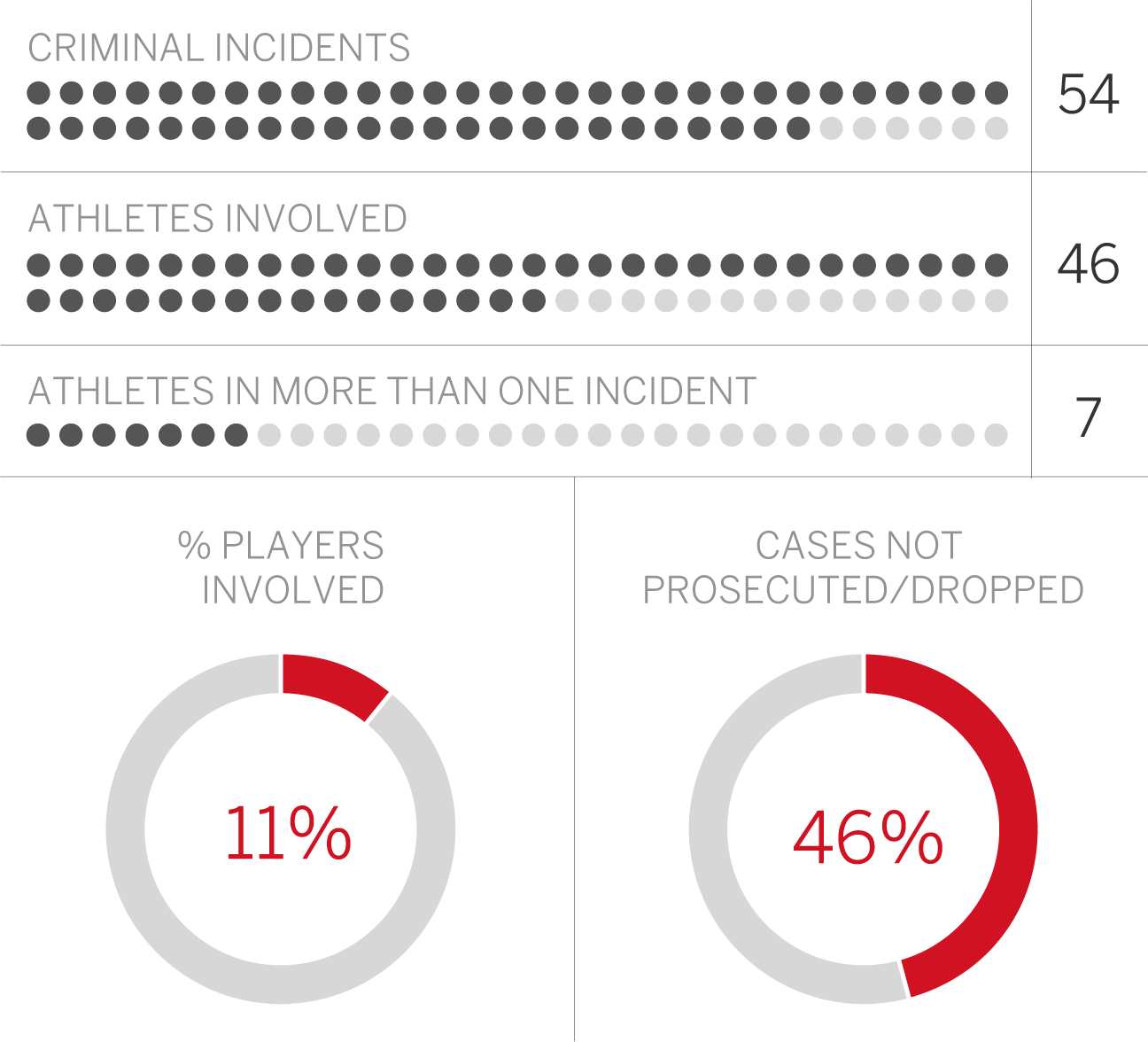 ---
The report also detailed how athletics officials sometimes become involved in investigations -- that's where head basketball coach Travis Ford and the Oklahoma State example came in -- and how the high-profile nature of athletes can lead to messier interactions between athletes, police and alleged victims. Often, when the officers chose to write down their conversations with suspects in the narrative of police reports, they detailed examples of how basketball and football players would try to leverage their status -- and how most of the time, those efforts failed.
One example from the records search involving Oklahoma State athletes bears that out: In April 2010, Stillwater police caught three Oklahoma State football players fishing off a bridge at a city lake. As the officer was questioning them about why they didn't have licenses, one of the players "asked me if I was an OSU fan and insinuated that they were players," the officer wrote. "I told him that I was not."
The officer issued each player a ticket -- which, in Oklahoma, was actually considered an arrest -- and they were all convicted.
"There were times that our coaches told us that since we are athletes, that cops were going to target us more," said one of the players, LeRon Furr, who had previously been charged with marijuana possession. "I didn't have too many run-ins with them, but when I did I was in the wrong. ... They did tell us a lot if you were to get in trouble they're going to take it more serious because we were athletes."
The Stillwater Police Department was named as an exception among agencies included in the Outside the Lines study because it does not have a policy to notify school officials when there is an incident involving an athlete. And several sources -- athletes, victims, victim advocates and prosecutors -- said the department made a point of not allowing interference.
"It would give the appearance that there could be some special treatment," said Stillwater police spokesman Capt. Kyle Gibbs. "We don't want to give anybody special treatment."
A woman who called Stillwater police in April 2013 to report a domestic violence incident with her football player boyfriend said she felt the police treated the incident fairly, even though her boyfriend was not charged. She told Outside the Lines that she had also slapped her boyfriend during the altercation and it was a "he said, she said" situation.
"If you're wrong, you're in the wrong, period," she said. "They don't care too much about your status in Stillwater."
Brenda Gill, a victim advocate in Stillwater until late last year, said police did not shy away from student-athlete cases.
"I had detectives call me to try to pursue cases with athletes and go forward," said Gill, who left Stillwater in December. "I had 10 p.m. to midnight phone calls when they said, 'Would you consider coming in and talking to these victims because we want to do what's in their best interest?'"