It has almost become an annual rite in college sports: A high-profile athlete at one school gets busted by police for a crime, and fans immediately try to compare one football program's criminal history with another's. But varying laws and community attitudes toward crime -- and athletes themselves -- make each school unique.
Outside the Lines on Sunday released an investigation into the interactions between police and college athletes, trying to determine how often crimes involving college athletes are prosecuted and what factors influence them. As part of its investigation, Outside the Lines requested police reports involving all football and men's basketball players on rosters from 2009 to 2014 from campus and city police departments covering 10 major programs: Auburn, Florida, Florida State, Michigan State, Missouri, Notre Dame, Oklahoma State, Oregon State, Texas A&M and Wisconsin.
---
Oregon State University
To determine how often crimes involving college athletes are prosecuted and what factors influence them, Outside the Lines requested police reports involving all football and men's basketball players on rosters at 10 schools from 2009 to 2014. The Oregon State results: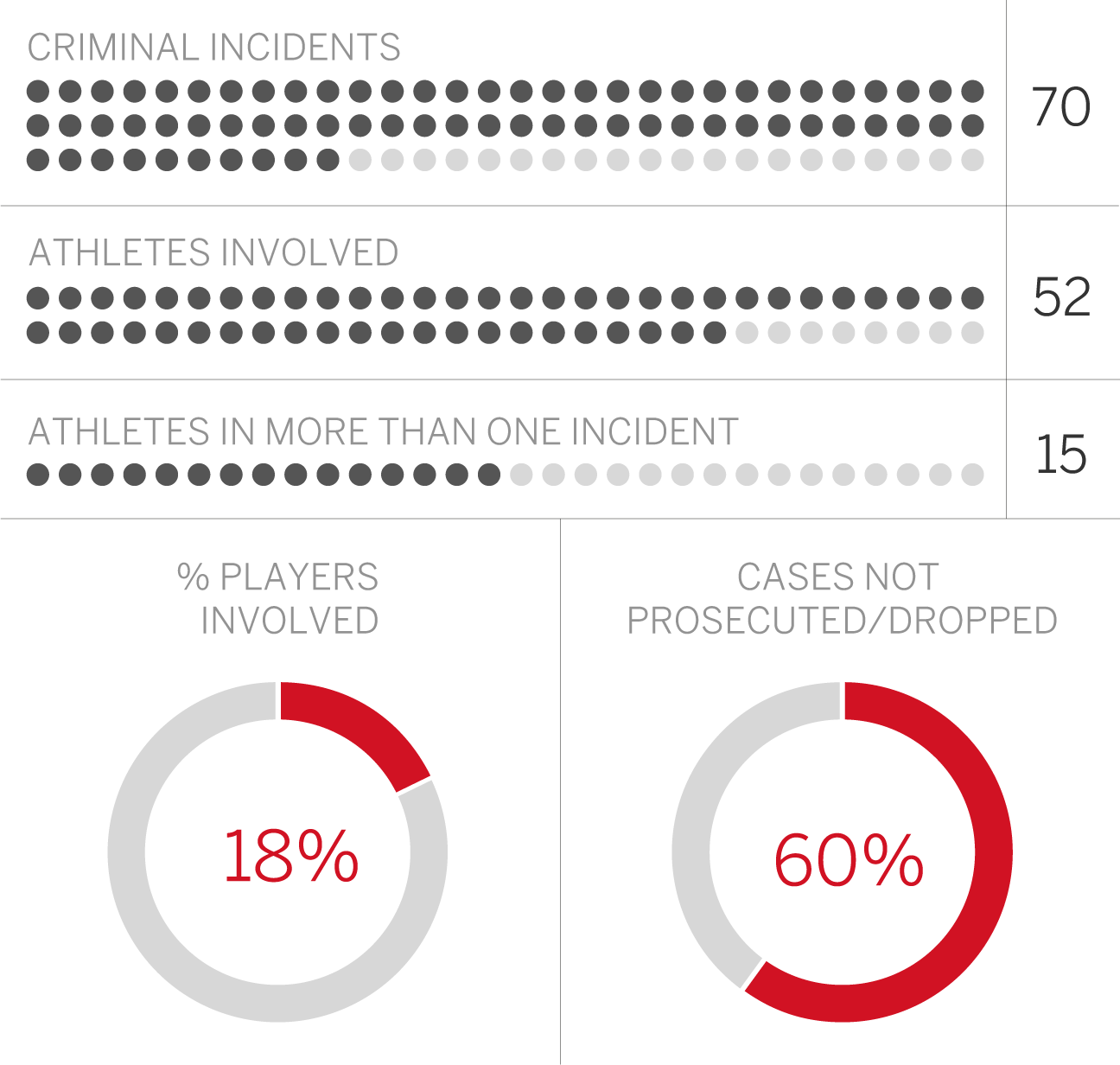 ---
Overall, the Outside the Lines investigation found that what occurs between high-profile college athletes and law enforcement is not as simple as the commonly held perception that police and prosecutors simply show preferential treatment, though that does occur. Rather, the examination of more than 2,000 documents shows that athletes from the 10 schools mainly benefited from the confluence of factors that can be reality at major sports programs: the near-immediate access to high-profile attorneys, the intimidation that is felt by witnesses who accuse athletes, and the higher bar some criminal justice officials feel needs to be met in high-profile cases.
The schools in the study are mostly college towns, but they vary in size, demographics and political sentiment, which factors into how criminals -- regardless of status -- are prosecuted. One such example is Corvallis, Oregon, home of Oregon State University.
The Outside the Lines study, which included only football and men's basketball players on rosters from 2009 to 2014, found that Oregon State had 51 athletes involved in 68 incidents during that time period, with 14 athletes being named in multiple incidents. About 60 percent of those incidents were either dismissed, not prosecuted or there was no court record found.
In many of the cases, police determined they simply didn't merit prosecution, and incidents weren't referred for charges to the city attorney or county prosecutors. Others were referred to municipal court, where judges are limited in handing out punishments because the county jail simply doesn't have room, said Corvallis deputy city attorney Jim Brewer. It was built for 14 inmates, and, with "extraordinary measures" can max out at 40, he said.
Legal representation also helps the accused. Oregon State provides free legal representation for all students. And offenders of all types in Benton County benefit from the community's more liberal attitudes toward crime and punishment.
"Jurors here tend to be very cautious about convicting people," Brewer said. "That's not necessarily unexpected. … It reflects a community value that is maybe looking less for punishment and more for rehabilitation."
Incidents involving Oregon State athletes were mixed, but most were for typical college-student crimes, such as underage drinking, noise violations, disorderly conduct and marijuana possession, which will become legal in Oregon on July 1 for personal use.
Incidents, mostly felonies, which reach Benton County District Attorney John Haroldson's office, have a higher rate of conviction. Haroldson's office keeps track of cases involving all Oregon State athletes, although he said most cases come from the major sports, which at Oregon State would include football, basketball and baseball. Between 2009 and 2014, there were 32 cases referred to his office for prosecution; of those, nine were declined due to insufficient evidence and 23 were charged, of which 19 resulted in convictions or guilty pleas.
In 2012, three football players -- Rudolf Fifita, Tyler Rosa and Dyllon Mafi -- were taken into custody on charges of felony third-degree assault and second-degree disorderly conduct after allegedly cornering two men in a bathroom at a Corvallis bar and pummeling them with their fists. The charges were downgraded to misdemeanors, and a grand jury decided not to indict them.
Haroldson, who said there were issues with the consistency of the witness' statements in that case, said he could also recall several other instances -- not involving athletes -- in which he believed someone should be charged with a crime in serious offense but a jury disagreed.
He said he doesn't believe the community is geared toward favoring local athletes either. He cited a 2003 incident when Oregon State football player Jamaal Jackson was asleep with his girlfriend in his Corvallis apartment when the woman's ex-boyfriend broke in and brutally assaulted him. The ex-boyfriend was Thunder Collins, a former University of Nebraska football player who would wind up years later convicted of murder in an unrelated case.
"[Collins] beat him so severely there was blood sprayed on the ceiling," Haroldson said. "A Benton County jury acquitted him."