An Outside the Lines investigation Sunday into 10 major football and men's basketball programs -- including Wisconsin's -- detailed incidents of coaches and athletic department officials being intertwined with police investigations involving athletes.
Overall, the Outside the Lines investigation found that what occurs between high-profile college athletes when they face criminal allegations and law enforcement is not as simple as the commonly held perception that police and prosecutors simply show preferential treatment to athletes, though that does occur. Rather, an examination of more than 2,000 police documents shows that athletes from the 10 schools mainly benefited from the confluence of factors that can be reality at major sports programs: the near-immediate access to high-profile attorneys, the intimidation that is felt by witnesses who accuse athletes, and the higher bar some criminal justice officials feel needs to be met in high-profile cases.
---
University of Wisconsin
To determine how often crimes involving college athletes are prosecuted and what factors influence them, Outside the Lines requested police reports involving all football and men's basketball players on rosters at 10 schools from 2009 to 2014. The Wisconsin results: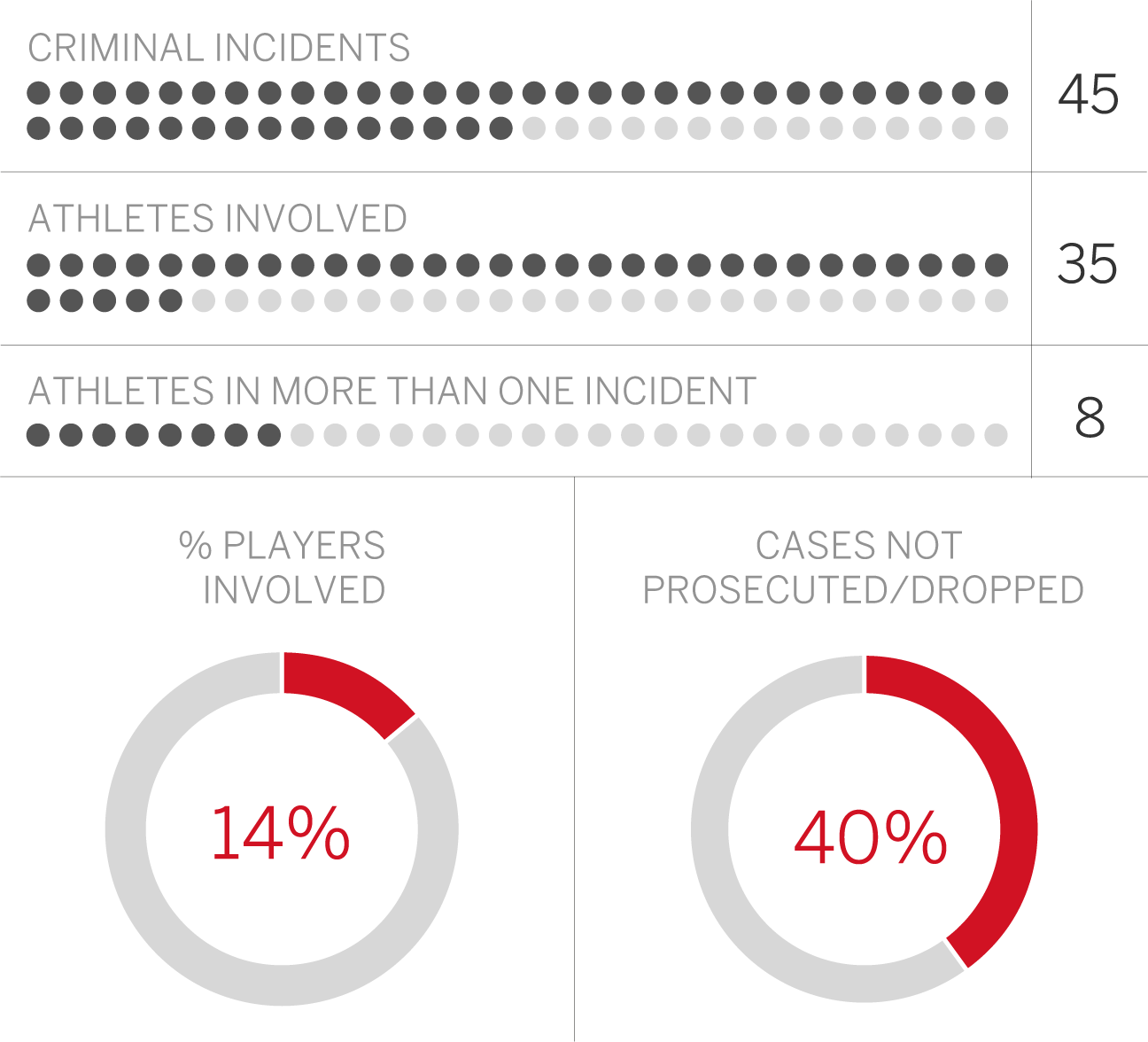 ---
The number of Wisconsin reports skewed slightly lower in comparison to other schools, and police report narratives overall did not indicate a trend of favoritism or special advantages given by police or prosecutors. But Outside the Lines found at least one incident in Wisconsin that is illustrative of how the system can sometimes work.
In June 2010, linebacker Kevin Rouse found himself sitting in a local jail, accused by police of felony substantial battery in relation to an altercation in an alley that left the alleged victim with "blood all over his hands and blood was running down his face and neck" and a "substantial laceration," according to police reports.
When it came time to call someone to let him know where he was, Rouse called his father. Rouse told Outside the Lines his father had already heard about the incident, though, from then-football coach Bret Bielema. According to the Outside the Lines report, a football coach knowing about an incident involving a player is not unique.
Rouse said he had one quick conversation with an attorney but remained in jail a few days before being released. He was never charged.
When police came to let him out, Rouse said, "I remember the [commanding officer] saying, 'Wow, I can't believe they're letting you out. You must know some people in high places.' That's exactly what she said. And to this day, I don't really know why I got out."
Rouse told Outside the Lines he acted in self-defense, but he doesn't know if his coaches had role in helping him avoid criminal charges.
"I mean, they do want to do whatever they can to keep the player on the field," he said. He said the coaches put him in counseling. "I had to do some community service since there were no legal repercussions … as far as the drinking, they were concerned about it and the slap on the wrist was part of the punishment."
Dane County District Attorney Ismael Ozanne declined a request to be interviewed for this story.
Alleged victim Ezekiel Shurts told Outside the Lines he had $1,500 in medical bills from the incident.
Shurts said he didn't realize -- until he was recently contacted by a reporter -- that Rouse was a Wisconsin football player.
"I was wondering how he picked 215 pounds up with one hand," Shurts said.
He said he that he wonders whether Rouse wasn't charged because of his status. "I would have pressed charges because that was random, active anger."