It might sound like a joke to some college football fans: How many Texas A&M football players can police arrest during one traffic stop?
But the punch line was no laughing matter for Aggies coach Kevin Sumlin on April 10, 2014, when police arrested three of his players for outstanding warrants during the same traffic stop near campus in College Station, Texas.
According to College Station Police Department incident reports, an officer stopped Texas A&M receiver Edward Pope's car around midnight for having an expired registration. He was found to have an active warrant for failing to appear in court and was arrested. When Pope asked officers if one of his passengers could drive his car home so it wouldn't be towed, subsequent checks of their driver's licenses revealed outstanding warrants for both Aggies defensive back Howard Matthews and defensive end Gavin Stansbury.
---
Texas A&M University
To determine how often crimes involving college athletes are prosecuted and what factors influence them, Outside the Lines requested police reports involving all football and men's basketball players on rosters at 10 schools from 2009 to 2014. The Texas A&M results: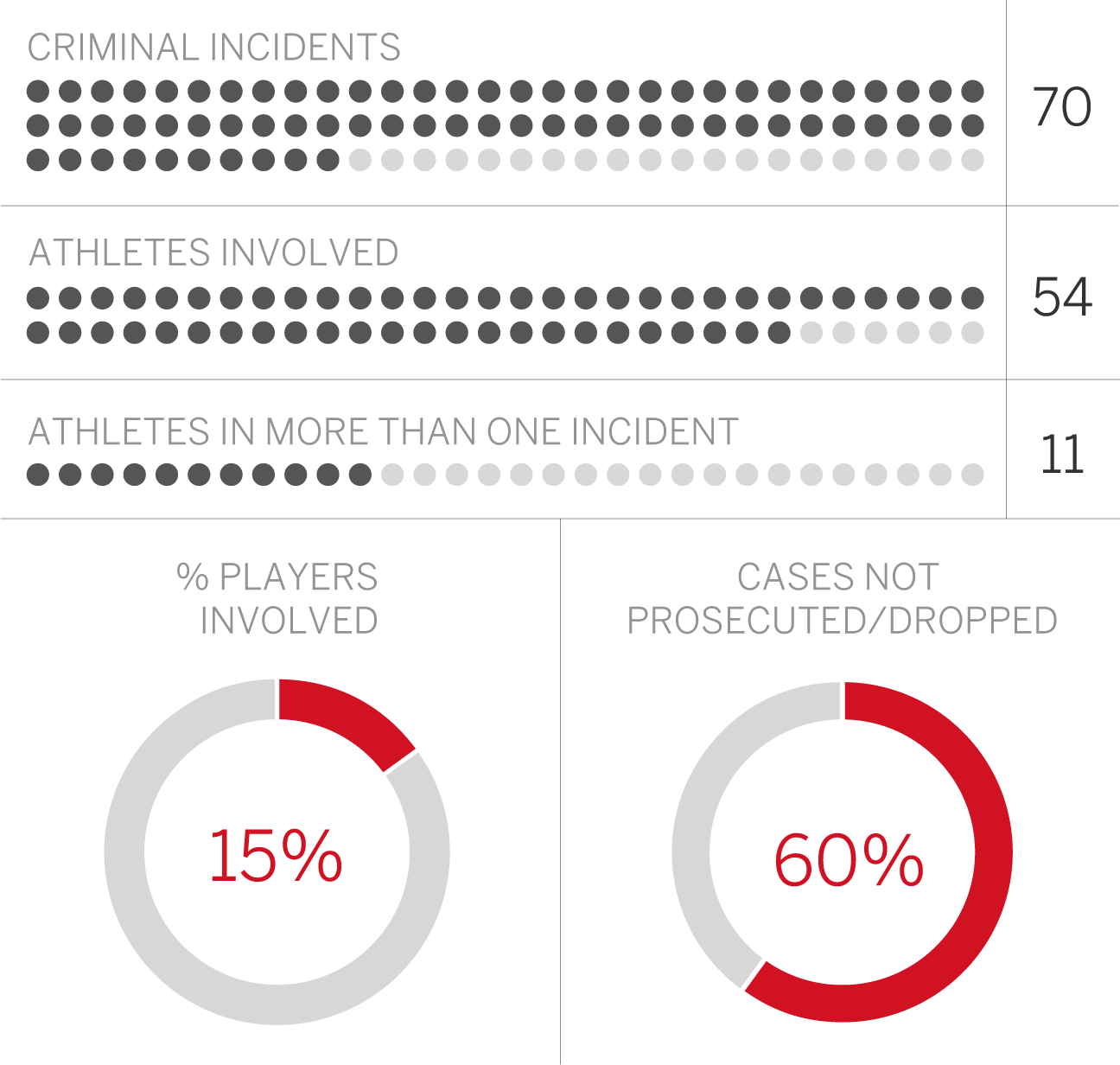 ---
Matthews had outstanding warrants in College Station Municipal Court for speeding, failing to exhibit his driver's license and failing to appear. Stansbury had an active warrant in Houston, where he allegedly poured a can of beer on a Rice University student's head and punched him in March 2014. Stansbury, who was expected to be one of the Aggies' top defenders last season, left the team in July and transferred to the University of Houston. He was charged with misdemeanor assault by the Harris County District Attorney's Office. The case was dismissed in November.
The trio's arrests were part of an ugly 2014 offseason for the Aggies. According to an Outside the Lines examination of incident reports from College Station Police, Texas A&M University Police, Bryan (Texas) Police and the Brazos County (Texas) Sheriff's Office, more than one dozen Texas A&M football players were arrested in 2014. The players were charged with offenses ranging from felonies such as aggravated robbery to misdemeanors for acts including urinating in public and fighting.
The examination of law enforcement records revealed that 15 percent of the players on Texas A&M's football and men's basketball rosters from 2009 through 2014 have been suspected of crimes. Of those incidents, about 60 percent of the cases resulted in no charges or they were dismissed. Eleven Texas A&M athletes were charged with multiple crimes in separate incidents.
At the direction of the Texas attorney general's office, law enforcement agencies released to Outside the Lines only certain incident reports in which Texas A&M athletes were involved in crimes. In some cases, the names of alleged suspects and victims were omitted, making it likely the actual number of crimes and student athletes is greater than could be reflected in the final analysis.
Sumlin, who was hired as Texas A&M's coach in December 2011 and compiled a 28-11 record in his first three seasons in College Station, said he and his staff have worked hard to clean up the Aggies' act off the field. According to police records, 12 Texas A&M football players were arrested or cited for offenses in 2012, followed by nine in 2013.
"We have, over the course of the last year, really changed our approach," Sumlin said.
Scott McCollum, chief of the College Station Police Department, said his officers treat Texas A&M athletes like any other citizens if they break the law.
"A lot of times these athletes are celebrities in our community," McCollum said. "A lot of people and a lot of students know who they are, so sometimes people will target them. We do some things to try to educate them on how the criminal justice system works and how it affects them. We try to let them know they're going to be treated like everyone else. It's really a discussion of common sense."
McCollum said his officers have been invited by Texas A&M athletics department officials to speak to athletes about what they can and can't do. McCollum said his officers are asked to speak to athletes as soon as they arrive on campus to advise them of the consequences of breaking the law.
Brazos County District Attorney Jarvis Parsons, whose office prosecutes felony cases in the county, said he has handled few cases involving Texas A&M athletes. In June 2014, Aggies football players Darian Claiborne and Isaiah Golden were charged with three counts of aggravated robbery for allegedly robbing three men -- and striking one of them in the face with a handgun -- during a drug deal involving marijuana. Claiborne and Golden, who were dismissed from the team following their arrests, are scheduled to stand trial on Sept. 8.
Claiborne and Golden were both previously arrested on unrelated drug charges.
"Once you come to me, you've kind of moved out of kids making mistakes and into a different area," Parsons said.
Parsons said his office doesn't worry about whether a suspect is a potential NFL or NBA player, they're going to be treated the same as anyone else.
Law enforcement records also revealed that police in College Station and neighboring Bryan were sometimes reluctant to allow Texas A&M football players to walk away from offenses that might be passed off as "boys being boys."
Around 3 a.m. on Sept. 14, 2014, a Texas A&M University police officer observed two men fighting in the parking lot of the Northgate Post Office a few hours after the Aggies defeated Rice 38-10 at Kyle Field. According to the reporting officer's narrative, "The two subject's [sic] argument suddenly became physical by pushing each other. At this time I pulled my vehicle to the eastern edge of the lot and stopped. As I did this, the white male subject and black male subject in the blue shirt began punching each other."
The Texas A&M University police officer identified the subjects who were fighting as Aggies offensive tackle Cedric Ogbuehi and defensive back Clay Honeycutt, who told police they were roommates. The officer issued Ogbuehi and Honeycutt misdemeanor citations for disorderly conduct and released them. The officer also allowed the men to call a friend to pick them up since they'd been drinking.
Honeycutt and Ogbuehi received deferred adjudication, which means they were placed on probation and their charges would be dismissed if they successfully completed probation.
In a few cases, Texas A&M athletics department officials actually sought the police's help in dealing with athletes who committed crimes. On Feb. 28, 2014, Texas A&M director of football operations Gary Reynolds contacted university police about a string of thefts in the Aggies' locker room.
According to officer Garrett Hudson's narrative in an incident report, running back Brett Wade reported that he had $120 missing from his locker on Feb. 13 and $50 missing on Feb. 20. After the money was stolen on Feb. 20, Wade set up a camera aimed at his locker from an adjacent locker to try to catch the thief. The next day, the camera captured Texas A&M redshirt freshman Kameron Miles taking Wade's wallet from his locker and looking in it. Two other players also reported money missing from their lockers.
On Feb. 27, 2014, Sumlin, Reynolds and Texas A&M associate athletics director Justin Moore met with Miles and confronted him about the thefts. Miles admitted taking $20 from one player, but denied stealing money from Wade and others. Miles, a highly regarded safety prospect from West Mesquite (Texas) High School, was dismissed from the team on March 6. He was arrested for misdemeanor theft five days later. The case was dismissed in July.
In at least one instance, a Texas A&M coach told a complaining party to call police if his players didn't behave. After a rare snowstorm hit College Station on Feb. 23, 2010, Texas A&M police were called to Reveille Ranch, an apartment complex in Bryan where a lot of football players live. Bryan Police went to the complex three times because of complaints about football players throwing snowballs and soccer balls at parked cars, traveling cars and apartment windows. When police arrived, the players fled the scene.
Because Texas A&M athletes were allegedly involved, Bryan police officers contacted dispatchers for assistance, who contacted then-Aggies athletics director Bill Byrne. Byrne called former football coach Mike Sherman, who went to the apartment complex. Sherman met with football players Desmond Gardiner and Steven Campbell, two of the culprits, and then told police to tell the women who complained to call police if any of his players approached their apartment door.
Reporter Paula Lavigne of ESPN's Enterprise/Investigative Unit contributed to this report.