SOUTH BEND, Ind. -- After all the Notre Dame seniors had been saluted on the field before their final home game on Saturday, they made a U-turn back to the team tunnel.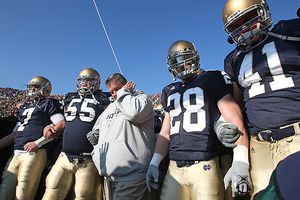 Jonathan Daniel/Getty Images
Notre Dame players showed their support for coach Charlie Weis at the start of Saturday's game but couldn't come up with the win.
There the players summoned head coach Charlie Weis, who normally hobbles to the sidelines on his bad knees behind the rest of the team. They wanted him up front and center this time.
"It was an idea that myself and two other guys had," quarterback Jimmy Clausen said. "It was Senior Day, but coach Weis has gone through a lot, and we're behind him 110 percent. And that's what we were trying to do today."
It was a nice symbolic gesture of support. But ultimately, how the team played against Connecticut in a 33-30 double-overtime loss sent the loudest message.
Weis had nothing to gain by beating UConn, really. But by losing, for the third straight week and for the second consecutive year to a Big East team on Senior Day, he surrendered all chance of returning for a sixth season.
Unlike previous difficult losses, athletic director Jack Swarbrick didn't come into the media room after the game to answer questions. There was no need. Swarbrick has insisted that he will evaluate Weis at the end of the season and won't make any announcements until after next week's season finale at Stanford.
But there is nothing left to evaluate. The announcement will be a mere formality.
Weis now has a lower winning percentage than predecessors Bob Davie and Ty Willingham. He is 16-20 in the last three years. The Irish will be heavy underdogs to Stanford, and a defeat will guarantee a third straight non-winning regular season.
It's telling that Notre Dame can now not even win on its own Senior Day against a team that didn't join the FBS until 2002. Saturday's game summed up much of what has gone wrong this year.
As usual, the Irish piled up some pretty offensive stats. Clausen passed for 329 yards. Golden Tate and Michael Floyd each had more than 100 yards receiving. Armando Allen ran for 106 yards.
But against a UConn team that had found ways to lose at the end of five of its previous nine games this year, Notre Dame did the gift-giving. It had a 14-0 lead after the second play of the second quarter but couldn't manage another touchdown in regulation. The red zone, where Weis' play-calling has short-circuited all season, again became a problem as the Irish settled for field goals despite driving inside the UConn 6-yard line twice in the second half.
Remember the infamous "decided schematic advantage" quote? Connecticut coach Randy Edsall put that to shame by admitting that his team made very few adjustments on defense after the first drive. Edsall said the Huskies had noticed Notre Dame's tendencies from the shotgun and under center from studying film.
"We just stayed with what we did," Edsall said. "We played a little more three-deep zone. But the whole game plan was, when they were in the gun, we were going to bang the crap out their two outstanding receivers."
The Irish compounded their problems with horrendous tackling against the run, a major issue all season. They gave up a kickoff return for a touchdown. Sergio Brown committed a boneheaded personal foul on a third-down incompletion to set up UConn's first score. And Allen fumbled on his team's final drive in regulation.
In a BCS-or-bust season, Notre Dame is now in danger of losing its final four games and being relegated to whatever bowl will take a 6-6 at-large team. If Notre Dame even accepts a postseason bid.
"Sitting at 6-2, you're thinking, 'Wow, we've got a chance to do some special things,'" Tate said. "Then all that's taken from you. Three games straight, we've let games go."
This shouldn't still be happening, not with several members of Weis' first full recruiting now fifth-year seniors. Not with such stars as Clausen and Tate setting school records. And as several starters graduate and Clausen and Tate look like strong early-entry candidates for the NFL draft, one has to wonder how things would get any better.
As usual, Weis deflected any questions about his own status, saying only that he felt "absolutely miserable" for the seniors.
"Today's not the day for me to reflect on things like that," he said. "I'll worry about me tomorrow."
There was a brief pause after Weis first opened up his news conference for questions. He took a small stab at humor in the interlude by saying, "Is that it?"
But that's not a query anyone needed to pose Saturday night. This was most definitely it for Weis' tenure at Notre Dame.