The most Georgia Tech defensive end Derrick Morgan will admit right now is that playing for the NFL was always a dream of his. He isn't ready to let the world know whether or not he'll return for his senior season or leave early for the NFL draft, but considering his talent, there's a strong possibility Saturday's ACC championship game against Clemson will be Morgan's last appearance in a conference game.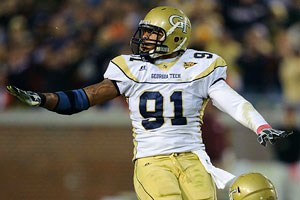 Paul Abell/US Presswire
Georgia Tech defensive end Derrick Morgan is a potential first-round NFL draft pick.He is currently considered by ESPN's Scouts Inc. as the No. 1 defensive end in the upcoming NFL draft, and the No. 6 player overall. Mel Kiper has Morgan at No. 10 on his latest Big Board -- a jump of five spots from the previous week.
Georgia Tech coach Paul Johnson said recently that last week, he spoke to all of his juniors about their futures, and whether or not the NFL might be a part of it.
"Oh I think we'll know fairly early," Johnson said of his juniors' decisions. "If a guy is going to be a top 10 pick or a top 12 pick, they're probably going to go. It would be hard to advise them not to."
Based in the city of Atlanta, Morgan said he's easily accessible to people trying to influence his decision, but that the school does an excellent job of monitoring who gets in and keeps track of it all in the compliance office. Those within the program have left the decision entirely up to him.
"It gets kind of hectic, but that's only if you let it," Morgan said. "A lot of people are contacting you or trying to contact you, not even agents, it's all types of people. It gets hectic but you have to remain focused. There's a time and place for everything, and it's not the time for that yet.
"That's something that has to be paid attention to at the end of the season. If you get caught up in looking at that, you kind of get off your game a little bit. I'm going to focus on the goal at hand for our team."
That's bad news for Clemson.
Morgan ranks first in the ACC and sixth nationally in sacks (12.5), and he ranks second in the ACC and is tied for 17th nationally in tackles for loss (17.0). Morgan is three sacks shy of breaking the Georgia Tech single-season sacks record of 15.0, held by Pat Swilling in 1985. His 12.5 sacks are the most by a Yellow Jacket since Greg Gathers had 13.0 in 2000.
And he's done it while facing double coverage for most of the year. That's why Clemson coach Dabo Swinney voted for Morgan as an All-American.
"He's outstanding," Swinney said. "He can play the run. He's excellent versus the pass. I thought he was their best player last year. I mean, he's just a really, really good football player that you'd better know where he is and you'd better have a plan for him. You've got to slide the protection to him, you've got to chip him with a tight end, you've got to play-action him, you've got to cut him with the back. I mean, there's different things that you have to do to try to keep him from just getting in a rhythm. If you just go in and you've just got one thought, he's going to have a big night on you. So you have to change up what you do from a protection standpoint."
Morgan, though, is still looking for more from himself.
"I'm still not satisfied with my performance," he said. "It's a real humbling experience to be recognized and noticed, but I'm still not where I want to be. I still have a lot of goals I want to achieve. It varies by week. I turn on the game film and see I could've done this better or I could've done that better. I'm my biggest critic. I'm always trying to be a student of the game and learn and better myself every week."
Unfortunately for Georgia Tech, it could be one of his final weeks.