Notre Dame fans may have dreamed of a grand-slam hire like Urban Meyer or Bob Stoops when the Irish decided to can Charlie Weis.
But Brian Kelly was always the right guy and the perfect fit for this job.
Full disclosure: In covering the Big East for the past three seasons, I've followed Kelly's time at Cincinnati very closely. It was impossible not to be thoroughly impressed with everything Kelly accomplished and how went about it.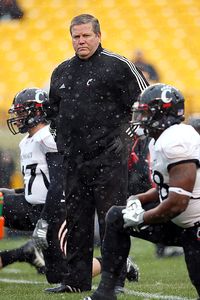 Ned Dishman/Getty Images
Brian Kelly won 10, 11 and 12 games during his three seasons at Cincinnati.
It wasn't just that Kelly seemed to be coaching circles around his Big East brethren at times; it was also how he convinced his team that everything was going great even during times of sheer adversity. That was most evident in 2008, when Kelly was forced to juggle four different players at quarterback but still managed to make the Orange Bowl. Kelly later admitted that he "lied, lied, lied" to his team when telling them there would be no dropoff.
He has the uncanny ability to make players believe just about anything. He convinced tight end Connor Barwin to move to defensive end his senior season, and Barwin ended up leading the Big East in sacks and getting drafted in the second round by the NFL. He talked quarterback and Notre Dame transfer Demetrius Jones into playing linebacker. He even got Marcus Barnett to buy in to playing receiver and cornerback this season.
"I feel like his biggest success is his ability to communicate," linebacker Andre Revels said last week, "and echo his point of how he wants the ship sailed to all the troops. He's the general, and we're all the troops."
Weis was an excellent offensive coordinator and an incredibly smart football mind. But what always seemed missing was his ability to motivate players and say the right things in public, or, at least in the beginning, to the many power brokers or those who consider themselves important behind the scenes at Notre Dame.
Kelly, as has been well chronicled, is the son of a politician who once campaigned for Gary Hart in the presidential race. And make no mistake: the Fighting Irish head coaching job is first and foremost a political position. Kelly is uniquely qualified to handle the spotlight and to make it bend to his personality.
I remember a couple of days before the Orange Bowl last year, Cincinnati held a reception in a meeting room at the luxurious Fontainebleau in Miami. While many coaches would have holed themselves up to watch film, Kelly worked the room for a few hours. He had the ability to talk to big boosters and low-level administrative staff and make everyone feel as though they were important to him.
Some will wonder about Kelly's prowess at recruiting. It's true that he's never recruited the highest-level athlete on a national level. But what he can do -- as he showed with guys like Tony Pike, Mardy Gilyard, Barwin and many, many others -- is that he can develop talent to its fullest potential. That in the end may be the most important thing for the Irish. Notre Dame will always be attractive to many high school players, but perhaps it can no longer draw the kind of interior defensive lineman that schools like Florida and USC can get. Kelly will sign talent, and he will coach it up.
Kelly has not only won big everywhere he's been, he's done so as the underdog. He took Grand Valley State to two Division II national championships when that program was more of a regional power. He took Central Michigan out of its doldrums to a MAC title. And Cincinnati had almost no history of being a major power before he led the Bearcats to back-to-back BCS bids.
Now he'll have the full resources of Notre Dame at his disposal. Kelly has always convinced his teams that they can win championships. He'll soon convince Irish fans that he's the perfect man for this job.