An abundance of talent has come and gone in the ACC in the past decade, and we only have to look at the conference's success in the NFL draft to realize it. Some of the best players at each school have only recently graduated, like former Clemson running back C.J. Spiller. Others, like Philip Rivers, have already made their mark on Sundays. Here's an attempt at narrowing the ACC's 10 best players of the past decade: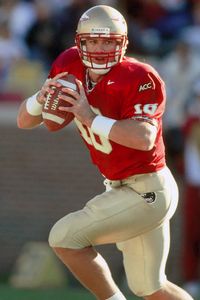 US PRESSWIRE
Florida State's Chris Weinke set a high bar for ACC quarterbacks in the aughts.1. Chris Weinke, QB, Florida State -- He became FSU's second Heisman Trophy winner as a senior in 2000 after leading the nation in passing with 4,167 yards and averaging 347.3 yards per game. His No. 16 jersey was retired in 2001.
2. Julius Peppers, DL, North Carolina -- He won the 2001 Lombardi Award as the nation's top lineman, and the Chuck Bednarik Award as the nation's top overall defensive player. He led the nation with 15 sacks as a junior, and was a forward on UNC's basketball team, where he helped UNC advance to the 2000 Final Four and earn a share of the 2001 regular-season conference title.
3. C.J. Spiller, RB, Clemson -- He finished his career second in NCAA history and first in ACC history with 7,588 all-purpose yards. He averaged 191.4 yards per game in 2009, breaking an ACC record that had stood for 41 years. Spiller became the first player in college football history with 3,000 yards rushing, 2,000 yards in kickoff returns, 1,000 yards receiving, and 500 in punt return yards. He was the only player in the nation to score a touchdown in every game in 2009. He established over 30 Clemson game, season and career records.
4. Philip Rivers, QB, NC State -- The 2003 ACC Player of the Year led the nation with a 72.0 completion percentage his senior year and 170.49 pass efficiency rating. He became the first quarterback in conference history to throw for 3,000 yards in three different seasons. His No. 17 jersey was retired Nov. 22, 2003.
5. Matt Ryan, QB, Boston College -- The 2007 ACC Player of the Year was drafted No. 3 overall in 2008 by the Atlanta Falcons, BC's highest draft selection ever. He won the Johnny Unitas Golden Arm Award and set BC records for completions (807) and finished his career 25-7 in 32 career starts. He set the school record for single-season passing yards (4,507) and had 12 300-yard career passing games.
6. Calvin Johnson, WR, Georgia Tech -- The 2006 Biletnikoff Award winner was selected by the Detroit Lions as the second overall pick in the 2007 NFL draft, becoming the highest selection in Yellow Jacket history. As the leading receiver in the ACC, the 2006 ACC Player of the Year set Tech season records with 1,202 yards receiving and 15 touchdowns on 78 receptions. His 15 touchdown catches ranked second in the nation. For his three-year career, he set school records with 2,927 yards receiving and 28 touchdown catches while ranking second with 178 career receptions.
7. E.J. Henderson, LB, Maryland -- The All-American in 2001 and 2002 finished his career ranked second in school history in career tackles (473), first in tackles for loss (62.5) and tied for seventh in sacks (18.0). He set a single-season school record with 26.0 TFLs in 2001. In three years as a starter, Henderson made double-digit tackles 27 times. He had 16 or more tackles on nine occasions in his career. Henderson, the ACC's 2002 Defensive Player of the Year, won the 2002 Chuck Bednarik Award and 2002 Butkus Award.
8. Chris Long, DE, Virginia -- The 2007 All-American and ACC Defensive Player of the Year finished third in the nation with 14 sacks -- more than 10 teams (and the same as two other teams) had that season. He also ranked fourth nationally in tackling by a lineman, averaging 6.3 tackles per game, and more than 25 percent of his tackles were for a loss. He also tied for fifth in the country among defensive linemen with eight passes defended.
9. Heath Miller, TE, Virginia -- He became the school's first major award winner since 1941 when he received the Mackey Award in 2004 as the nation's top tight end. In three years Miller caught 144 passes for 1,703 yards and 20 touchdowns, all records for a tight end. He was the first unanimous All-American tight end in conference history.
10. Mark Herzlich, LB, Boston College -- His place is already written in ACC history not only for his accomplishments on the field, but for overcoming his battle with Ewing's Sarcoma and being an inspiration to others off it. He was the 2008 ACC Defensive Player of the Year and a finalist for the Butkus Award. He led the Eagles with 110 tackles, six interceptions, eight pass break-ups, two forced fumbles and two fumble recoveries in 2008.