Wyoming's 35-28 overtime win against Fresno State in the New Mexico Bowl last month won't affect the Cowboys' recruiting too much come signing day next week; the Cowboys' class was almost filled by the time the come-from-behind win was completed.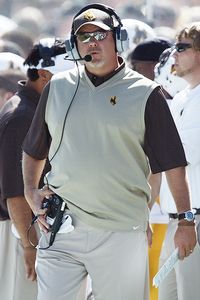 AP Photo/David Zalubowski
Wyoming's win over Fresno State in the New Mexico Bowl was proof coach Dave Christensen is moving the program in the right direction.But the effects of that monumental bowl win, Wyoming's first since 2004, have resonated through the staff and the current players. The win was validation for all the yelling and running and hard work each player put in when coach Dave Christensen took the job more than 13 months ago. Christensen's style was in stark contrast to his predecessor Joe Glenn and not everyone responded well. Both those who did were rewarded with a seven-win season and the understanding of what it takes to play on a winning football team.
"It really solidifies what we're trying to do," Christensen said. "I don't have to sell on my philosophy and my vision because now it's there. And now [the current players] are going to sell it because they got through it and they know how it works."
Prior to Christensen's arrival, the Cowboys hadn't had a winning season since 2004 and they were on the cusp of another losing season had it not been for some late-season heroics against San Diego State and Colorado State that earned them a bowl berth. In the New Mexico Bowl, the Cowboys were trailing 28-17 in the fourth quarter and scored 18 unanswered points for the overtime win.
In all three games, freshman quarterback Austyn Carta-Samuels was the catalyst. Christensen named him the starter against UNLV late in September and the team responded immediately. Carta-Samuels was named Mountain West Conference Freshman of the Year and is the main reason why Wyoming is so hopeful that its winning season will not be a fluke.
"We lost some pretty good players and some leadership in that senior class, but it's exciting to know that we've got so many young guys coming back that can play and contribute, and then we'll add another class to that," Christensen said. "We're still building. We haven't arrived by any means. We've laid a foundation and now we've got to continue to build upon that foundation."
Christensen said the bowl win was a nice building block, but that establishing a pattern of consistency will really be the difference in the program. Glenn also led the team to a bowl win in his first season, but was not able to replicate the success. Christensen said he's working on making sure that's not the case with his regime.
"We need to do everything we did the first 12 months that we were here," Christensen said. "We need to make sure there's no complacency in any area of the program whether it be support staff, coaching staff, players, whatever. You can't get complacent. You've got to work as hard as the first 12 months every month for the rest of the time we're here. That's the only way you can be consistent."
Once that consistency starts showing, Christensen is confident better recruits are going to flock to Laramie. Currently, Wyoming has 25 commitments and most of those players are on the defensive side of the ball where the Cowboys needed the most help.
With better recruits means a better program and the possibility of bringing Wyoming back to its heyday of the late 1980s and early 90s.
"If you go to a bowl game and then you go to another bowl game, all of a sudden you have stability in your program," Christensen said. "The big this is to be able to sustain a winning program and go every year to a bowl game. That's when it comes into recruiting. When recruits know that you've gone two, three years in a row, then they know that your program is pretty solid."