FOXBOROUGH, Mass. -- Quick-hit thoughts and notes around the New England Patriots and NFL:
1. With former Arkansas coach Bret Bielema joining the Patriots staff as a consultant to head coach Bill Belichick, with a focus on coaching defensive linemen through the initial stretch of training camp, the three New England players who were recruited and coached by Bielema in college shared what they learned most from him:
Deatrich Wise Jr. (Arkansas, 2012-16): "He taught physical and mental toughness, and that's one thing that really stood out with him; it was one of his most important things in how he wanted us to conduct ourselves as Razorbacks. It translated to my game, and it translated over to now, because it's the same concept with the Patriots. Now that he's here, it's nice to have someone you know from college and who can help you out. He's learning the defense, and I'm still learning the defense, and that's cool, especially because he's watched me from when I was really young."

James White (Wisconsin, 2010-13): "At Wisconsin, it was about being a team player; we were built on that and playing for each other. It wasn't an individual thing. We had a real tight-knit group and he preached that all the time. It's similar to how we are here. It's no one individual; it takes every piece to be successful, and that's what I learned the most from him. Football-wise, Wisconsin prepared me a lot for the NFL, from formations to schemes, blocking and all that type of stuff."

Trey Flowers (Arkansas, 2011-14): "I learned consistency from him. When he came to Arkansas, it was not a developed program, in some rough waters. He stayed consistent in his principles, and what he believed in that helped him win. That produced some victories, which taught me that whenever you're facing adversity, you have to stay consistent. If it's not working right now, keep on working, and you'll eventually see it through. It's cool seeing him around. He's a great guy, a player's guy, a great guy to talk to. He knows a lot about my family, which shows you how engaged he is in his players' lives."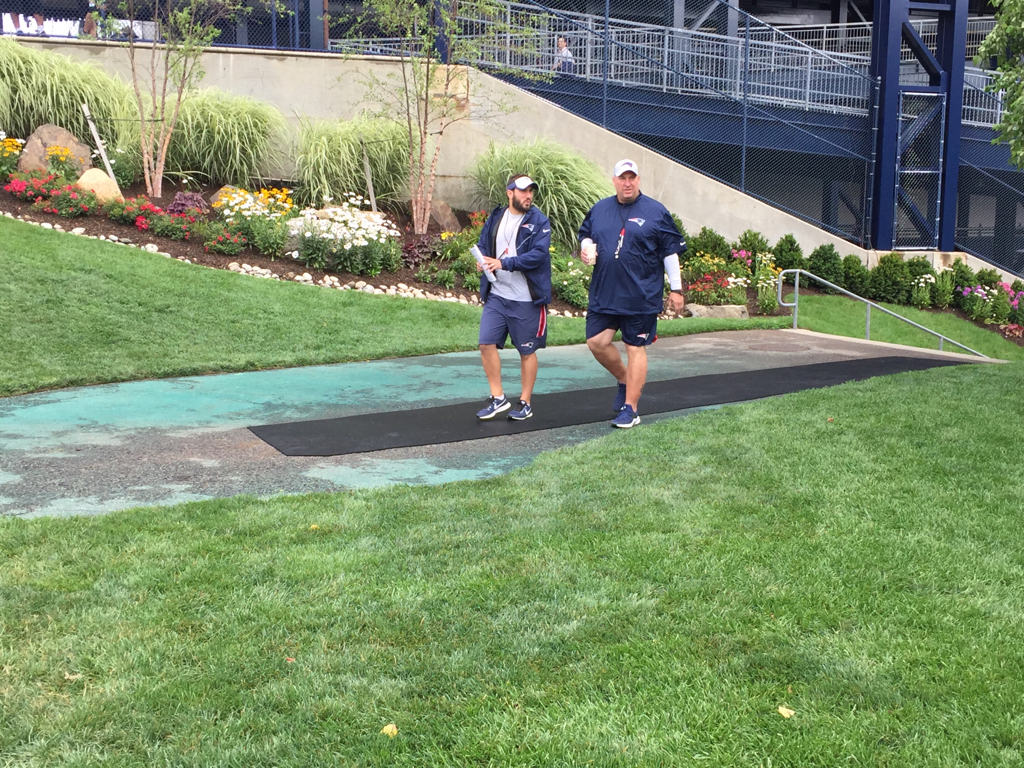 Former Arkansas coach Bret Bielema (right), consultant to head coach Bill Belichick, arrives on the field for practice.
2. In an interview earlier this month on ESPNU/Sirius XM Radio, Bielema told co-hosts Taylor Zarzour and Greg McElroy that he has focused on professional development since Arkansas fired him in November. Bielema said in the interview that he was initially "heavily leaning toward jumping into media" before opportunities arose with the Patriots. "This NFL side is very unique in that it's all football," he said. "I've never been in that world before and it's something I enjoy."
3. Bielema isn't the only newcomer on the staff whose presence has been notable through the first few days of training camp. During the team's first practice Thursday, time was devoted to pass-rush consultant Joe Kim working with the team's linemen, which is a change in 2018. Second-year defensive tackle Adam Butler, for one, was intrigued by the opportunity to work with the martial-arts expert. "I've definitely been able to apply some of those things on the field already," he said. Linebacker Dont'a Hightower also spent 1-on-1 time with Kim during Friday's practice.
4. Belichick's positive remarks about the 2018 Patriots have stood out to me, as he mentioned that "this has been a good group" and that the team had a good spring, among other things. It also might be a result of the team reporting for training camp in good physical condition (everyone passed the conditioning test). Of course, that doesn't mean anything if players don't progress and turn it into a good camp, but part of me wonders if Belichick has been more willing to share praise with reporters than he has in the past because he respects his players' approach in an offseason in which the organization was under plenty of public scrutiny.
5. Sometimes a quarterback has to "climb the ladder" in the pocket, then there are other times a reporter has to climb the ladder for an interview, such as with 6-foot-9 Patriots offensive tackle Trent Brown. The interview is scheduled to air on ESPN's NFL Live on Monday (1:30 p.m. ET).
6. One way to make Patriots players smile? Mention the team's completely overhauled and renovated locker room. "I've never seen anything like it, when you open the doors [to the lockers] and they slide in," said receiver Phillip Dorsett, who relayed that the change created a spark among players upon their return. "There is a lot more space. You can sit in the locker. Almost hide in it." Receiver Chris Hogan, for his part, said the lighting in the locker room is what stands out to him the most.
7. While Belichick probably would have preferred to have joint practices in training camp -- as evidenced by the Patriots having them each year from 2012 to 2017 -- he doesn't seem to be too concerned they aren't on the schedule this year. One of the options was with Washington, but of all the joint practices the team has had in recent years, the 2014 sessions with the Jay Gruden-led Redskins seemed to be a cut below the others the team has had. Perhaps that also factored into his decision to go without them.
8. When the Patriots traded for Cordarrelle Patterson this offseason, Belichick had mentioned the possibility he could be in the punt-return mix, but that hasn't manifested itself to this point. The primary returners early in camp have been Julian Edelman, Patrick Chung, Chris Hogan, 2018 sixth-round pick Braxton Berrios and 2017 practice squad player Riley McCarron. My thought: With Edelman suspended for the first four games of the season, and Chung/Hogan having too much value on their respective sides of the ball to risk having them return punts, it's a great opportunity for Berrios and McCarron. With special teams expected to be a big part of Monday night's in-stadium practice, they are two players to watch in that setting.
9. The Patriots haven't had a punting competition in training camp since 2013, when undrafted Ryan Allen beat out incumbent Zoltan Mesko. Now, five years later, Allen is being challenged by rookie Corey Bojorquez. My early analysis: Bojorquez, who went undrafted out of New Mexico, has more physical talent than Allen but it will be a question of consistency. Bororquez, like Allen, also holds on field goals, which will be a factor in the final decision as well.
10a. Patriots special-teams captain Matthew Slater was a surprise fifth-round draft pick in 2008, with New England taking him with the 153rd overall pick, and he said last week that receivers coach Chad O'Shea shows him a list at this time of year that reflects how he's outlasted most 2008 picks. For more context, Slater is one of just 20 draft picks (out of 252) to still be on an active roster, per ESPN Stats & Information data.
10b. Slater said O'Shea does the same for receiver Julian Edelman, who was a late seventh-round pick in 2009. He was the 232nd overall selection. He is one of 31 draft picks (out of 256) that year to still be on an active roster.