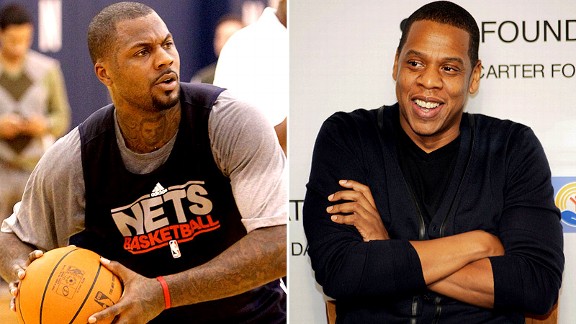 Getty Images
Jay-Z is now one of DeShawn Stevenson's bosses. Awkward?EAST RUTHERFORD, N.J. – DeShawn Stevenson didn't think it was weird to play for an owner who once made a dis record about him.
"Not really," said Stevenson, who signed with the Nets on Friday. "I think it's fun and games. At the time, there was a lot of gimmicks going on with the Wizards and a lot of gimmicks going on with the Cavaliers. I think with that past, I think everybody moved on. I won a championship."
And that's one more than LeBron James, whom Stevenson had called overrated back in 2008 when Stevenson was a forward in Washington and James was the King in Cleveland. James then said that his responding to Stevenson would be like Jay-Z -- a part-owner of the Nets -- responding to lesser-known rapper Soulja Boy.
The verbal warfare prompted Jay-Z to drop a freestyle called "Blow the Whistle" in which he took a couple of his own shots at Stevenson, including referencing Stevenson as a "pawn."
The beef is long over. Stevenson went on to win an NBA title with Dallas last season against James and the Miami Heat. Stevenson could still laugh about the record.
"I take it as an honor that he even made a song about me," Stevenson said. "He doesn't even do that for rappers. So obviously, [if I saw Jay-Z] I would say 'What's up' to him."
In terms of basketball, Stevenson said the Nets were a "good fit" and that Deron Williams was a large part of why he decided to sign with New Jersey. He did recognize that he is coming from a championship team to a squad that's in constant flux, having just lost its starting center, Brook Lopez, to an injury.
"It'll probably be tough, coming from the team where I came from," Stevenson said. "At the same time, it's a challenge. It's a challenge to win a championship, and this is a different type of challenge. Like I said, to play with an All-Star point guard is a special thing. I played with a Hall of Famer [Jason Kidd, in Dallas] so it's just a new period of my life."
Even Stevenson's former team can be considered a team in flux. The Mavs acquired Lamar Odom from the Lakers but have lost five free agents: Tyson Chandler (Knicks), J.J. Barea (Minnesota), Caron Butler (Clippers), Stevenson (Nets) and Peja Stojakovic (retired).
The landscape of the Western Conference appears much different than last year, and although the Mavericks are expected to be contenders, there isn't much talk of back-to-back titles.
"That's what happens when you let a lot of people go," Stevenson said.