On Thursday night in Moscow, Nets guard MarShon Brooks met team owner Mikhail Prokhorov for the first time. The encounter took place at the residence of Michael McFaul, the U.S. Ambassador to Russia.
Brooks, who was joined by Nets assistant coach Mario Elie, told ESPNNewYork.com that the experience was "humbling."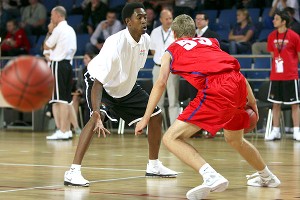 Catherine Steenkeste/NBAE
MarShon Brooks schools top European teenagers during his first trip to Russia.
For Brooks, it was just another new experience during his week in Moscow. When he touched down in the city on Wednesday, it marked the first time Brooks had ever been to Russia.
Brooks is there until Sunday for the NBA's inaugural Basketball Without Borders program in the country, which medaled in Olympic basketball for the first time this summer. BWB a global basketball development and community outreach initiative organized by the NBA and FIBA, working to grow the sport while encouraging social change.
On Thursday, Brooks spent the day teaching 50 of the most talented young basketball players from more than 25 European nations, ages 14 to 17, some tidbits of the game he learned last season.
"I showed them things I picked up during my rookie year to give them an advantage," he said. "The fundamentals of the game, like how to shoot off screens, help-side defense -- little things like that."
BWB is hosted by Russian NBA players Andrei Kirilenko and Alexey Shved (Timberwolves), as well as former Knick Timofey Mozgov (Nuggets). Brooks is joined as a guest by Danny Green (Spurs), Brian Cardinal and former NBA players Sarunas Marciulonis and Alexander Volkov.
In addition to basketball coaching, Brooks is also participating in three NBA Cares events: one with the Special Olympics, an NBA FIT clinic at a local school and another one at a Moscow orphanage's newly refurbished basketball court.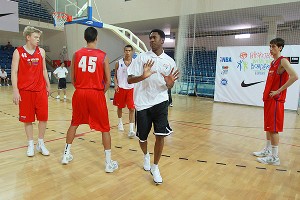 Catherine Steenkeste/NBAE
MarShon Brooks
Off the court, Brooks joked that he's being careful of the Russian vodka, and said -- get this -- that McDonald's is his favorite restaurant so far.
"It's actually excellent," he said. "It's the best McDonald's I've had in a long time."
He's also been surprised about how many Nets fans are in Moscow -- and that they recognize him.
"I was walking around the Red Square, and I saw some guys with Brooklyn Nets hats and shirts on," he said. "It's pretty much the only basketball team I've seen out here honestly, so I'm pretty excited about that. A couple guys walked up to me and said hi. They're definitely watching us over there in Moscow."
You can follow Jared Zwerling on Twitter.