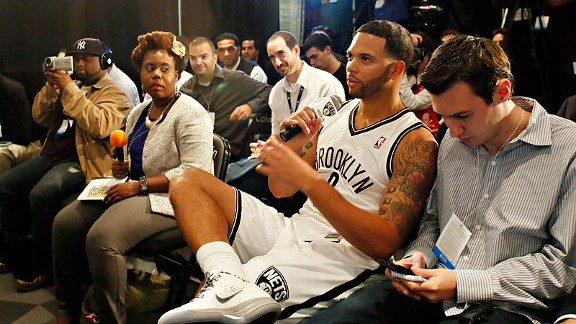 AP Photo/Stuart Ramson
D-Will tried out for an ESPN New York gig at Monday's media day.The Brooklyn Nets haven't played a game yet -- but, as they've reiterated throughout the offseason, they're already talking title.
"Where we are now, the goal is to win a championship. That's the goal. At the end of the day, that's what we're playing for," coach Avery Johnson said Monday at the team's media day inside the $1 billion Barclays Center in downtown Brooklyn.
"I couldn't say that about the team the last two years because we weren't there on any level. ... We're not a championship team today, [but] hopefully we'll be one as we move on through training camp and into the regular season and into the playoffs. ... Are we a championship team right now? No. But do we have the potential to be one? Absolutely. And that's where we want to be."
The Nets have won just 58 games the past three seasons and haven't made the playoffs since 2006-07, but after a $330 million roster overhaul -- highlighted by the creation of "Brooklyn's Backcourt" (point guard Deron Williams and shooting guard Joe Johnson) -- they're dreaming big.
"We definitely don't [have a five-year window]," Joe Johnson said. "This year, the sky is the limit for us. Hopefully, we can jell a lot faster than probably what people expect. Like I said, I think it's wide open and I think we have a chance to win the whole thing this year, and I'm not just saying that. I honestly believe it."
You see, the Nets aren't exactly concerned with what should be a budding rivalry across the East River with the New York Knicks.
Toward the end of Johnson's news conference, Williams came and sat down in the first row.
"I think what everybody wants to know," Williams asked Avery Johnson, half-jokingly, "is, 'Who has the best team in New York?'"
"You're about the millionth person to ask that question," Avery Johnson replied. "I've answered that question a million times. Here's what I'm gonna say: It's not about having the best team in New York.
"My point guard, he often talks about being the best team in the NBA, because he's a two-time [Olympic] gold-medal winner, and he wants to bring that spirit to the rest of the roster because he wants to be an NBA champion -- and that's what I want for him.
"So what's going to happen is this year -- he's going to average about 18 points a game, 11 assists and help us achieve our goals of winning an NBA championship and not just a city championship."
Williams was later asked the same question he posed to Johnson.
"I'm not gonna get into that," D-Will replied. "Like coach said, it's a question we're asked a lot. It's definitely a rivalry we want. We hope it's a good rivalry. I think it's good for basketball. But we're interested in trying to win a championship, trying to make the playoffs first. And I guess if we win a championship, we'll be the best team."
On Sept. 21, Russian billionaire owner Mikhail Prokhorov reiterated his goal of winning a title within the next three years; he had a five-year plan when he bought the team in 2010.
If it's going to be a realistic goal, the Nets, who are projected to have a starting lineup that features Williams, Joe Johnson, small forward Gerald Wallace, power forward Kris Humphries and center Brook Lopez, are going to have to jell quickly -- they have nine newcomers -- and improve defensively.
In fact, Avery Johnson wants his team -- which lacks any shutdown defenders -- to be in the top 10 in the NBA defensively.
"I just visited with the players and we have specific goals [for them], and it's written out so they all have it in front of them," Avery Johnson said. "I'm not gonna talk too much publicly about what our goals are, but we must make a major step defensively; we've gotta take a major step in the right direction.
"We've gotta be in the top 10, that's one of the barometers for us defensively. We have a certain amount of points we wanna give up this year, defensive field goal percentage, we know where we want that to be this year. In the last two minutes of a game, I want to see a team that's physically and mentally tough."
Avery Johnson is going into the last year of his contract but declined to disclose if he was in discussions about an extension, saying it was a private matter. Still, he welcomes the pressure that comes along with such high expectations.
"I've been waiting for this kind of pressure for two years," the Nets coach said. "Expectations are a lot higher. This is what we want. This is what we sign up for, where we get really criticized when we don't win. And when we win, the players get really celebrated, and that's what it's all about.
"We don't want to continue to be in a situation where it's a low payroll and low expectations. I'd rather it the other way."