Avery Johnson wants the Brooklyn Nets to have one of the NBA's top 10 defenses.
And the Nets coach is taking significant measures to make sure his team gets there.
According to center Brook Lopez, Johnson gave his players a handbook filled with philosophies, ideas and beliefs -- along with the dates of four written tests on defensive principles.
"We're gonna be hitting it pretty hard," Lopez said Monday, at the team's media day inside the $1 billion Barclays Center in downtown Brooklyn. "We want to be a pretty defensive-minded team. I'm just focused on being the guy in the middle that everyone can count on. If they get beat, I'll be back there. We just have to be prepared to help each other out."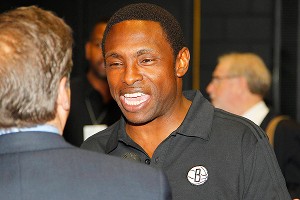 Jim O'Connor/US Presswire
You can't spell Avery Johnson without D.Lopez is one of several Nets players that have been criticized for lackluster play on D. In their final season in New Jersey, the Nets finished 24th in points allowed per game and 28th in opponent field goal percentage.
"I just visited with the players and we have specific goals and it's written out so they all have it in front of them," Johnson said. "I'm not gonna talk too much publicly about what our goals are, but we must make a major step defensively, we've gotta take a major step in the right direction.
"We've gotta be in the top 10 -- that's one of the barometers for us defensively. We have a certain amount of points we wanna give up this year -- defensive field goal percentage, we know where we want that to be this year. In the last two minutes of a game, I want to see a team that's physically and mentally tough."
Point guard Deron Williams said the key for the team's success this year will be playing strong team defense. The Nets don't have any true defensive stoppers, though small forward Gerald Wallace is known as a strong defender.
Johnson also pointed out that his team must rebound as a team, too.
"We've gotta improve significantly in rebounding, and that's everybody," Johnson said. "I believe in balance. I had a reputation of being a 'defensive coach' in Dallas, but most of my teams were balanced teams that were good defensively and offensively."