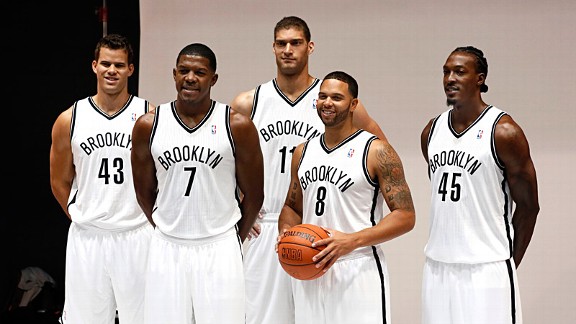 AP Photo/Stuart Ramson
Johnson (7) and friends made themselves at home on Monday.Atlanta may not be New York, but confident newcomer Joe Johnson already seems like he was made for the Big Apple.
Oklahoma City? Miami? The Lakers? The shooting guard believes the Brooklyn Nets can beat them all.
"Yeah, definitely, you're gonna have to go through those teams to win, right? I'm not sugar-coating anything, man," Johnson said Monday at the team's media day. "We know and understand that Miami is the favorites and nobody is picking us to win anything, but I think hard work is gonna pay off. We've got guys that have really been working. I can speak from myself just from being traded, it took my mindset somewhere else, to where I want to come out really prepared and do something that I've never really done before."
Like winning a championship.
"We definitely don't (have a five-year window)," Johnson said. "This year, the sky is the limit for us. Hopefully we can jell a lot faster than probably what people expect. Like I said, I think it's wide-open and I think we have a chance to win the whole thing this year, and I'm not just saying that. I honestly believe it."
If they do shock the basketball world, Johnson will likely be a big reason why. The 31-year-old was asked to be the go-to guy with the Hawks. That won't be the case in Brooklyn.
"I think my role will definitely change a lot," Johnson said. "I don't think I will se a lot of double- and triple-teams. I will get a chance to play off Deron Williams and Brook Lopez a lot, maybe do a whole lot more catch and shoots and not a whole lot of 1-on-1s, creating and try to break down a defense (in isolation sets). I think my role will change, but it will be a great change."
Johnson, one of nine newcomers to the Nets, loves the way the team has been constructed.
"I just think we've got great character guys, man," he said. "I think we have a complete team. When you look at the guard position, the bigs, Brook. We've got great hardworking forwards. I think we've got everything that you could possibly want on a championship-caliber team. Now, we just have to come together as one and make it happen. I think the sky's the limit for us, honestly. workouts have been great. I'm excited."
Johnson doesn't think it's going to take very long for the Nets to jell and expects that they'll get off to a great start in November.
Johnson says he isn't afraid of the bright lights and looks forward to starting fresh in Brooklyn.
"It's definitely a revitalization of my career. It's a new start, a fresh start," Johnson said. "I'm starting with a clean slate. I'm coming in with a positive attitude and just looking forward to the challenge."