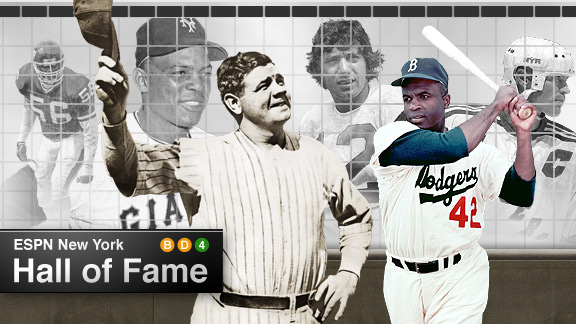 ESPN.com illustration
Vote: Pick the ESPN New York Hall of Fame class | Meet the candidates

In honor of ESPN New York's inaugural Hall of Fame ballot, here are my top five players in St. John's history:
1. Chris Mullin, 1981-85: Mullin is the leading scorer in school history, with 2,440 career points. He averaged 19.5 points per game over his four seasons, and in his senior year he led St. John's to the Final Four and won the Wooden Award as the top player in college basketball. Mullin was inducted into the Naismith Memorial Basketball Hall of Fame on Aug. 12.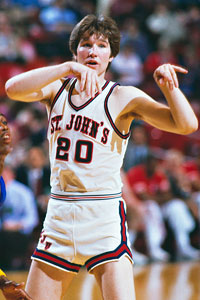 Getty Images
After four seasons at St. John's, Chris Mullin went on to play for 16 years in the NBA.
2. Walter Berry, 1984-86: Berry was with St. John's for just two seasons after transferring from San Jacinto Community College, but he certainly made them count. In his first year, he averaged 17.0 points per game, helping St. John's advance to the Final Four. In his second year, he averaged 23 points and 11.1 rebounds per game, and received the Wooden Award. Berry's 828 points that year remain the St. John's single-season record.
3. Malik Sealy, 1988-92: Sealy amassed 2,402 career points at St. John's -- second in school history, just 38 behind Mullin. He averaged 22.1 points per game as a junior, leading St. John's to the Elite Eight. As a senior, he averaged 22.6 ppg and was a second-team All-American. He is also the school's all-time leader in steals (238).
4. Mark Jackson, 1983-87: Jackson owns the school record for career assists, with 738. He was the sixth man on the 1985 Final Four team. As a junior, he recorded 328 assists -- at the time an NCAA single-season record, and still fifth all time. As a senior he stepped up his scoring average to 18.9 points per game, was named the Big East Defensive Player of the Year and was a second-team All-American.
5. (tie) Tony Jackson, 1958-61: Jackson averaged at least 20 points and 10 rebounds in each of his three seasons at St. John's. He finished his college career ninth in school history in points (1,603) and third in rebounds (991).
5. (tie) Lloyd "Sonny" Dove, 1964-67: Dove averaged a double-double in each of his three seasons at St. John's; in his final two seasons, he averaged more than 20 points and 10 rebounds per game. Dove is second in school history in career rebounds (1,036), behind only George Johnson. And he is 10th in career points (1,576).