NEW YORK -- On the first night of Big East play in this 2011-12 season, St. John's made some serious noise.
The young Red Storm blew the Providence Friars out of Carnesecca Arena, 91-67. And in the process, freshman forward Moe Harkless broke a record previously held by Allen Iverson.
Not bad for your first Big East conference game, eh?
Harkless poured in 32 points, shooting a sparkling 14-for-17 from the field, and set the mark for most points by a freshman in his Big East debut. Iverson, the former Georgetown phenom and 11-time NBA All-Star, previously held the record with 30 points, sharing it with former Notre Dame standout Troy Murphy.
"I don't even know what to say about that," said a stunned Harkless, who was unaware he had broken the record until reporters informed him after the game. "It's an honor to be even mentioned with those guys."
The performance by St. John's overall was stunning as well. The Red Storm (7-5, 1-0 Big East) came in off back-to-back wins, but had to rally late to overcome lowly Texas Pan-American in their previous outing on Dec. 21.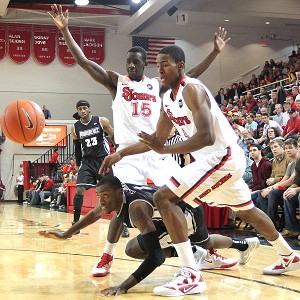 Anthony Gruppuso/US Presswire
Moe Harkless set the mark for most points by a freshman in his Big East debut.Assistant coach Mike Dunlap, who continues to run the team in place of the recuperating Steve Lavin, said the team actually got a big lift from that tight 66-61 victory four days before Christmas.
"To get [the win] in the last minute, we saw a little bit of a change off that game," Dunlap said. "Where they had a little bit of swagger to them."
The Red Storm looked like a completely different team on Tuesday night -- confident, yet under control, at both ends of the floor. Providence came in having won seven straight, 11-2 overall, but St. John's dominated the Friars from start to finish. The Red Storm led 47-31 at the half, and never by less than 12 after that, eventually pushing the lead to as many as 26.
St. John's shot 35-for-62 from the field (56.5 percent), forced 20 Providence turnovers and gave the ball away just nine times themselves.
"Obviously [I'm] happy that these guys, the young guys, could learn that if they play a certain way they could get a Big East win," Dunlap said. "Two is, what's significant is we were able to score that many points. And three is, we were able to play a team that came in pretty hot and has played some good people."
Providence coach Ed Cooley was not exactly thrilled with his club after the game, to no one's surprise. "Credit St. John's, they did a great job. Very long, very athletic," Cooley said. "[But] our kids were just pathetic today, in every imaginable way.
"That was the worst defensive game I have ever coached," he said. "That will be addressed tomorrow morning, at 6 a.m. -- emphatically addressed."
Individually, freshman shooting guard D'Angelo Harrison also had an outstanding game for St. John's, with 25 points (8-for-12 shooting), seven assists and zero turnovers in 39 minutes. But it was overshadowed by Harkless' historic performance.
And the 6-foot-8 forward did more than just score. Harkless also had 13 rebounds, four assists, four steals and a pair of blocked shots.
Harkless was the most heralded of all the new players St. John's brought in this season, ranked the 39th-best high school senior in the country last year by ESPN. And he had scored in double figures in nine of the team's first 11 games. But this was, without question, his coming-out party. And he did it in front of a sellout crowd of 5,602 at Carnesecca Arena.
"Not only does he have a skill set, but as you're watching, he's pleasing to the eye because he does things effortlessly," Dunlap said of Harkless. "Sometimes you get after him for not going hard enough, but actually his one step is three of mine or four of mine.
"The one thing with Moe that we're trying to teach him is, if he'll put in at a higher rate on his effort level, he'll do things like he did tonight."
"He's definitely a face of the Big East," Cooley said. "He's a player who'll go down as one of the better players to come out [of the league]."
Last Dec. 29, a St. John's team that had lost to St. Bonaventure and Fordham earlier in the month opened Big East play with a surprising win at West Virginia, 81-71. Dunlap has cited that game as a major turning point -- a win that inspired that team to believe it could accomplish big things.
This victory over Providence could prove to be a season-changer, too. Or it could just be a particularly bright spot for this team of five freshmen and two juniors that is likely to experience some serious ups and downs.
Only time will tell.
Harkless, for one, is thinking positively. "It was just a matter of time for everything to click," he said of his team. "I think we can still get a lot better."