NEW YORK -- St. John's lost another player on Wednesday, and then suffered its worst loss of the season.
The final margin was not quite as wide as the Red Storm's 95-70 defeat at the hands of Syracuse four days ago, but St. John's looked even worse in a 76-54 laugher against Cincinnati that was over midway through the second half.
The Red Storm were outrebounded by the Bearcats 49-29, allowed Cincinnati to shoot better than 50 percent from the field (31-for-60), and shot just 32.8 percent themselves (19-for-58).
"We know how we got beat, and that's on the defensive end of the floor," said interim coach Mike Dunlap. "They had 20 more rebounds than we did, and that's a great place to start when we look at the film tomorrow."
But the bigger story emanating from the game was the departure of junior guard Malik Stith, which was announced a couple hours before tip-off. Stith, the lone holdover from last year's team, was averaging just 2.7 points in 14.6 minutes per game off the bench. But those were valuable minutes, considering St. John's has only been using seven players, and the other six are all in their first year of Division I ball.
Stith cited "personal reasons" in a statement released by the school. The other players learned the news from the coaching staff on Tuesday. "He was one of the leaders on the team, so it definitely hurts," said shooting guard D'Angelo Harrison, who was the only player in double figures on the night, with 15 points. "Other players gotta step up and fill his role."
Star forward Moe Harkless, who had a season-low six points, said he and Stith are "really close," and that he had spoken to Stith about his decision. "Yeah, we talked about it, but that's not my business, so I'm not gonna say anything about that," Harkless said.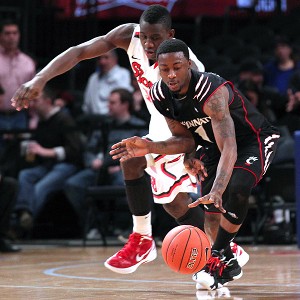 Anthony Gruppuso/US Presswire
Wednesday couldn't have been worse for St. John's.It's quite possible Stith was unhappy with his role. After starting five games and playing more minutes earlier in the season, Stith's playing time had dwindled, despite being the only veteran on the squad. In the most recent loss to Syracuse, he played just six minutes, and did not take a shot.
"He'll always be part of the family," Dunlap said. "And so, just because somebody's struggling, and he made a choice, whether it's the way we play basketball, or what he does, he's part of us."
Neither Dunlap nor the players pinned this defeat, and the manner in which it occurred, on the sudden loss of Stith.
"No, that would be too easy to throw in that kettle," Dunlap said. "I just thought for whatever reason we were flat."
"It definitely came from within," said Harkless. "We didn't come out with a strong enough effort on defense, and it bled into our offense."
Stith's departure is just the latest chapter in what has been a tumultuous season for St. John's -- a season which began with head coach Steve Lavin taking a leave of absence to undergo prostate cancer surgery, and three incoming recruits being declared academically ineligible in September.
In the past three months, starting point guard Nurideen Lindsey elected to leave the program and transfer, one of those ineligible recruits (Amir Garrett) became eligible for the second semester, and Lavin returned for four games before taking another leave of absence after a setback in his recovery.
Now Stith is gone, leaving behind five freshmen, one junior college transfer, and seven more regular season games to play.
Only one of those seven is against a ranked opponent -- the next one, at No. 11 Georgetown on Sunday. But the Red Storm, now 10-14 overall and 4-8 in Big East play, need a bunch of wins to get eligible for the postseason beyond the Big East tournament.
Cincinnati coach Mick Cronin said the Red Storm are already winners, in a sense. "I commend their coaching staff for trying to stay positive, and their kids have battled all year," said Cronin. "To me any win they get in the Big East is gravy, this year. You can't play with all first-year players. It's just completely unrealistic."
But that is reality for Lavin, Dunlap & Co. now. Half a dozen players, and very little margin for error. Any injuries, or serious foul trouble, would be simply catastrophic.
"We don't pity ourselves," said Dunlap. "We know exactly what we can get better on tomorrow, and we'll be back at the grind and go about fixing some things. I look forward to that. You find out about who people are through adversity."
Said Harkless, "We just gotta stick together and play with what we've got."