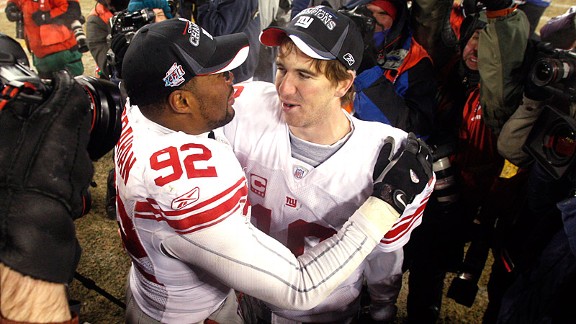 Jerry Lai/US Presswire
Michael Strahan says Eli Manning's ascension has taken pressure off the Giants' defense.Michael Strahan understands the comparisons between this Giants team and the 2007 squad that won the Super Bowl.
But this team is much different in Strahan's eyes and that's because of the way Eli Manning is playing.
"I think these are two totally different types of teams," Strahan said in a conference call previewing this weekend's playoff games. "Our team in 2007 was led on the defensive side of the ball. We realized defensively and especially up front, we had to get after the quarterback and had some good secondary play. This year, you can lean on the offense to put points on the board."
Strahan, now a Fox analyst, said Manning was just coming into his own during the Super Bowl run.
"At that point in 2007, Eli finally started to get his confidence in himself," Strahan said. "We were still a little unsure every game about what was going to happen with him. I understand the comparisons but I wish this team would have their own history. This is a good team and they're hoping that the defense hits the same hot streak that the offense hit back in 2007 when they needed it the most."
One thing the 2007 and 2011 teams have in common is that players had to buy into Tom Coughlin's system. Safety Antrel Rolle admitted that he became a Coughlin convert this season after not seeing eye-to-eye with the head coach's old school methods in 2010.
Few understand this better than Strahan, who butted heads with the coach early on as well.
"A perfect example of a player taking on the personality of their coach is Antrel Rolle," Strahan said. "He's said, 'I was forced to play for a coach like this and it's ridiculous,' and now he says that he wouldn't want to play for any other coach. Tom Coughlin tests you to a point and it happened with me."
"You have to ask yourself -- do I want to be a part of the problem or a part of the solution," Strahan continued. "When you start to buy in and want to be a part of the solution you realize that he's a very good coach whose only focus is to win. It seems like the main guy that needed to buy in, the guys who are the leaders, like him and Chris Canty, believe in it now."
As for the defensive line, Strahan sees potential problems for the Packers. The future Hall of Fame defensive end loves what he's seeing in Jason Pierre-Paul.
"Jason Pierre-Paul has been an absolute monster this year," Strahan said. "There have been times that they've needed a play and he's been that guy to give it to them. He is mainly working on raw talent and natural ability."
Strahan said Justin Tuck has fought through injuries and has "a great ability to slap your hands away and beat you around the edge."
"Having Osi Umenyiora back is a big plus and he showed that with nine sacks in nine games and the big sack at the end of the game last week," he said. "He's a potential game-changer because he's one of the best at creating turnovers on strips of the quarterback."
With Manning and the offense playing at a high level, Strahan knows the defense will likely decide the Giants' fate in Green Bay.
"The defense has shown their potential in the last two games," Strahan said. "It's definitely up to them to show up in Green Bay with that offense that the Packers have, because offensively, there is no doubt that the Giants can score."