Tiki Barber praised Eli Manning -- yes, you read that right -- during a Sunday morning interview with ESPN NewYork.com's Ian O'Connor on ESPN New York 1050.
Barber, who once questioned Manning's leadership capabilities, said his ex-teammate has greatly improved in that department and is no longer rattled by adversity.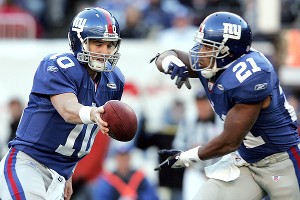 Nick Laham/Getty Images
Eli Manning and Tiki Barber were teammates for three seasons, 2004-06.
"Here's what I look for when I'm looking for an elite quarterback: Someone that no matter the circumstances -- whether you're playing great, whether you're playing horrible -- has that unfettered drive to succeed," Barber said.
"That's what Eli has learned over the last five or six years -- from the early days when I saw him where everything used to rattle him -- to now. No matter what happens, he's always into the football game and doing something to help his team win.
"That's my definition of an elite quarterback, and why Eli is in on that conversation now."
Manning put the Giants on his back this season, leading them to the playoffs for the first time since 2008. He shattered his own franchise record, throwing for 4,933 yards, while setting a new NFL mark with 15 fourth-quarter touchdown passes and leading the league with six fourth-quarter comebacks.
Manning might not look or act like a prototypical leader, but that doesn't matter, according to Barber.
"We want to craft a leader into a specific mold that he should be, and it doesn't work that way," Barber said.
"Eli has crafted his image into what his leadership qualities are, and his teammates accept him, and that's what matters. In 2007 [when the Giants won the Super Bowl], it didn't matter how his mannerisms were or how he acted, what mattered is what you do on Sunday afternoons, and he did it great in that run."
Following his retirement in 2006, Barber questioned Manning's ability as a leader, saying his pregame speeches were "almost comical."
To which Manning famously responded: "I'm not going to lose any sleep about what Tiki has to say. I guess I could have questioned his leadership skills last year with calling out the coach and having articles about him retiring in the middle of the season, and [how] he's lost the heart [to play]. As a quarterback you're reading that your running back has lost the heart to play the game and it's about the 10th week. I can see that a little bit at times."