Carlos Rogers' salsa dance following an interception in the 49ers' 27-20 win over the Giants on Nov. 13 didn't sit right with Giants receiver Victor Cruz, who uses the dance to celebrate each time he scores a touchdown.
"It was a little bit of disrespect," Cruz said when asked on Wednesday. "I understand it was something I do and to do it on me and do it front of our sideline, it was a little disrespectful. But I understand that, it's all part of the game. Things happen and guys are going to do that. He wasn't the only one to mock that dance throughout the season."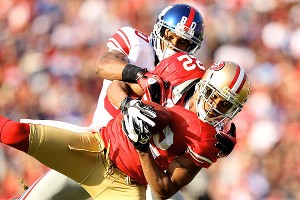 Ezra Shaw/Getty Images
Carlos Rogers stepped in front of Victor Cruz for an interception on Nov. 13. A celebration ensued.
Dallas receivers Dez Bryant and Laurent Robinson did the move when they scored touchdowns. Rogers did the move following an interception and as an opponent covering Cruz.
In the second quarter of the teams' game on Nov. 13, Giants quarterback Eli Manning tried to hit Cruz down the field but Rogers jumped in front of Cruz and hauled in the interception. He did the salsa dance near Cruz and in front of the Giants' bench.
When asked if he owes the Pro Bowl cornerback for his dance, Cruz said that the media can answer that question, but didn't deny that he has a chance to get some revenge.
"A little bit," Cruz said.
Cruz finished that game with six catches for 84 yards but did not get to the end zone, preventing him from being able to do his own salsa dance. Sunday, he'll try to get the final word -- and dance -- against Rogers and send his team to the Super Bowl.
"It's just a matter of seeing him again and understanding that there were some positive things I did against him in the first game," Cruz said when asked of things he can take from his first encounter with Rogers. "I'm probably going to have to stick to those things and watch the film.
"He's gotten a lot better obviously since then, doing a lot of good things. It's just a thing with Rogers as the game goes on, see where he's favoring, see which way he's leaning toward, and just try to calculate and move off the way his body shifts."