Toronto Raptors reserve forward Gary Forbes will likely be flying from Miami to Washington D.C. during Super Bowl XLVI. But before the Raptors' team charter plane takes off following next Sunday afternoon's game against the Heat, Forbes will call one of his closest friends, New York Giants wide receiver Victor Cruz, to wish him luck.
"I know they're going to bring home the trophy," Forbes said before playing 22 minutes and scoring five points in his team's 94-73 blowout victory over the New Jersey Nets at Prudential Center. "The Giants are going to win it all, and my boy is going to get Super Bowl MVP."
Forbes and Cruz knew each other growing up; They both played in the AAU basketball circuit in the New York City area. But it was at UMass where they forged a strong bond.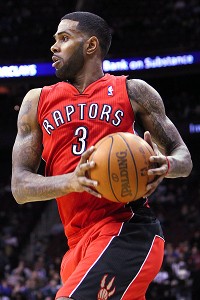 Nicole Sweet/US Presswire
Gary Forbes
"I'd always see him working out in the gym," Forbes said. "We had a lot of mutual friends, were in the same classes, we were always around each other and lived in the same area, so we just grew a bond."
On Feb. 2, 2008, Cruz went over to Forbes' apartment to watch Super Bowl XLII. Forbes, who grew up in Brooklyn and went on to star at Benjamin Banneker Academy before attending Virginia and then transferring to UMass, was pulling hard for his Giants to upset the 18-0 Patriots.
"We're a big New England school. There were maybe about five or six guys from the basketball team who were from New York. And everybody else was from Massachusetts, so they were in one apartment, and we were in the other."
Cruz, though, was a Cowboys fan, and didn't care who won -- that is, until David Tyree made "the catch."
"I was rooting for them, I said they got to win after a guy makes a catch like that, its only right," Cruz recalled.
"It got pretty ugly in that little apartment complex [after the Giants won], UMass gets pretty crazy, guys were tipping cars, it was out of control to say the least."
Nearly four years later, the Giants and Patriots are playing for the title again. The only difference is, Cruz won't be watching this one on television.
"Gary called the other day and said, 'Man, you got to be the luckiest guy I ever met in my entire life,'" Cruz said. "Never would I have written my life to pan out this way."
"That's the first thing he thought of, that we were watching the same team, and they're on the same kind of run that the Giants had [in 2007]," Forbes said. "And now to see him in the Super Bowl coming from UMass, it's a great feeling, knowing that he's one of my good friends."
Like Cruz, Forbes took the road less traveled to make his dream of playing in the NBA a reality. After going undrafted in 2008, Forbes, now 26, played in the NBDL and several countries overseas before making the Denver Nuggets' roster out of training camp in 2010-11.
Forbes, though, said he's not surprised that Cruz, 25, has risen from anonymity to superstardom and already taken hold of the Giants' single-season record for receiving yards in such a short period of time.
"He has that [superstar] quality. He's a hard worker and he did the same thing at UMass, so I wouldn't expect anything less," Forbes said.
The whole situation is pretty surreal.
"We're both from the East coast, have the same swagger and the same demeanor," Forbes said. "And seeing him on the field is truly an honor, to say that we went school together and that he's my boy."
Who would've thought it was possible? Forbes and Cruz, that's who.