INDIANAPOLIS -- Two months ago, Chase Blackburn was an out-of-work linebacker, seemingly resigned to life without football. He lined up a job as a substitute teacher in his home, Dublin, Ohio.
Now he's a Super Bowl champion, and, man, does he have a great show-and-tell story to tell his class some day.
There was only one takeaway Sunday night in Super Bowl XLVI, and Blackburn made it. It's not often you see a 242-pound linebacker make an interception 37 yards downfield, but that's precisely what he did early in the fourth quarter of the Giants' 21-17 win over the Patriots.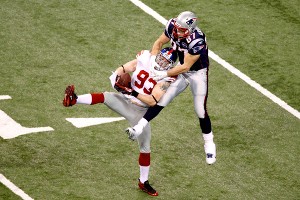 Gregory Shamus/Getty Images
Chase Blackburn hauls in his clutch interception in front of Rob Gronkowski.
Tom Brady made a bad decision and heaved a first-down pass to Rob Gronkowski, thinking his 6-foot-6 tight end could outjump anybody. He was wrong. Despite being three inches shorter than the Gronk, Blackburn jumped and made the play.
It wasn't the ideal matchup, obviously, but Blackburn managed to keep up with Gronkowski, who was clearly slowed by a high-ankle sprain.
"I had to carry Gronkowski, and I heard the crowd go wild a little bit, and I thought we had a sack," Blackburn said. "I continued to see Gronk go up the field and just tried to stay with him. I saw him look back so I looked back for the ball. When I spotted it, I tried to block out and go up for a rebound like in basketball."
Brady should've thrown it away. It was only first down, and he had a two-point lead. He gave away a possession and great field position.
"Well, obviously, you hate to throw those," said Brady, who played an otherwise brilliant game. "I wish I would've gotten a little more on it."
Blackburn said he's "not the fastest linebacker in the league." Fast enough.