INDIANAPOLIS -- Steve Weatherford capped his season of redemption with a fantastic punting performance Sunday night in Super Bowl XLVI.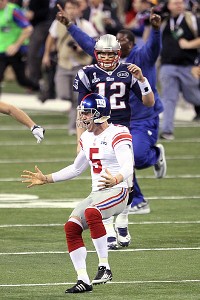 Jeff Gross/Getty Images
Steve Weatherford's season ends with a Super Bowl title, at Tom Brady's expense.
Weatherford, cast aside by the Jets after two seasons and trashed by special-teams coach Mike Westhoff, helped the Giants win the field-position battle by putting three of his four punts inside the 9-yard line. In a close game, that was huge.
After the Giants' 21-17 win over the Patriots, Weatherford was asked about Westhoff.
"That's the furthest person from my mind right now," he said. "Actually, I appreciate the decision he made."
The Jets decided not to re-sign Weatherford because he slumped at the end of last season. But he was on his game against the Patriots. His first punt, to the 6, led to a safety when Tom Brady was flagged for intentional grounding in the end zone.
"In my game, it's all confidence," Weatherford said. "The more fun I have, the more confidence I have. It's just a game. Granted, there's only a billion people watching, but it's a game. I went out there and had fun and was able to execute."
It was a storybook night for Weatherford, who grew up an hour away in Terre Haute. He's an unrestricted free agent, but you can bet he won't be returning to the Jets.