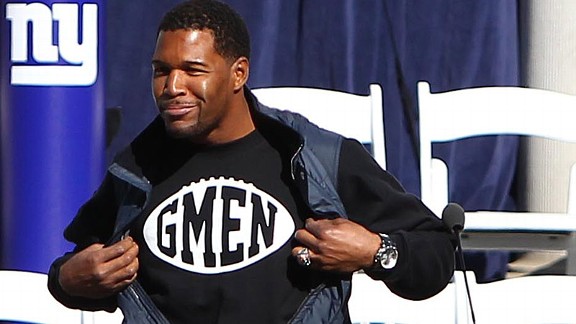 Debby Wong/US Presswire
During his speech at City Hall on Tuesday afternoon, former Giants defensive end Michael Strahan created a lot of buzz when he revealed a black sweatshirt featuring the word "GMEN" bordered by a white football.
"You cannot judge the heart of a G-man," Strahan said, citing the fact that a lot of critics had written the Super Bowl XLVI champion Giants off two months ago, before showing off the shirt.
Well, fans can purchase one of the shirts Strahan was wearing by logging on to www.gmenshop.com. Some of the proceeds from the shirts will be donated to the Giants' team charity.
The story of the shirt dates back to Super Bowl XLII, according to Dr. Ian Smith, one of Strahan's close friends. Dr. Smith met Strahan several years ago at a charity event, and the two realized they had a lot in common -- especially their love for golf.
Dr. Smith's brother, Dana, works as a "garmento" in New York and Los Angeles. So prior to the big game, Strahan asked Dr. Smith if his brother would create some "lucky" shirts for the team to wear. Dana made the shirts exclusively for the coaches and players, and the Giants ended up upsetting the Patriots, 17-14.
"The players loved them, but that was pretty much it," Dr. Smith said.
Four years later, though, that changed. Last Wednesday, Strahan, who is now retired and works as an NFL analyst at FOX, asked Dr. Smith if his brother would make the shirts again. Frantically, Dana did. He had them shipped all the way from Los Angeles to New York, and then drove them to Indianapolis. The Giants players and coaches received them the night before Super Bowl XLVI.
The following day, it was deja blue all over again, as the Giants vaulted over the Patriots again, 21-17, to capture their fourth Super Bowl title in franchise history.
"We've been getting a ton of calls," said Dr. Smith, a nutritionist who serves as an expert on VH1's highly-rated "Celebrity Fit Club."
"It's been out of control and gone viral."
The website went live at 8:30 p.m. on Tuesday night.