Markus Kuhn's first NFL experience is bittersweet.
While the German defensive tackle is ecstatic to be a Giant, the seventh-round pick has to wait before getting onto the field for his new team and showing what he can do.
Kuhn suffered a laceration on his right leg while moving some boxes about a week ago, accidentally slicing himself with a knife that was sticking out of a box. He needed stitches and was held out of action this weekend.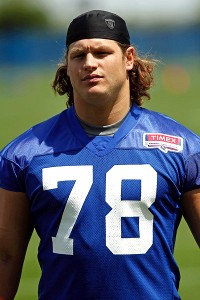 Debby Wong/US Presswire
Markus Kuhn
"I can't say much because I haven't seen him practice," said coach Tom Coughlin. "But he is a very, very interesting young man. We studied him on tape and we thought that he would be an outstanding prospect for us. He is a thick body; powerful young man who I think will put some more weight on and he will be able to squat in there and do a nice job inside."
Kuhn, 26, is only the third European-trained player drafted by an NFL team, joining fellow German Sebastian Vollmer (New England, 2009) and Romeo Brandison (Washington, 1994) of the Netherlands, according to the NFL.
Kuhn didn't start playing football until he was 15, when he began playing for a German club. Kuhn didn't play football in the United States until 21 after he and his father took a tour of universities, hoping to find a school that would offer him a scholarship.
"My dad and I flew over to the East Coast in 2006 and we just showed up at a bunch of different schools and walked in with a highlight DVD," Kuhn said. "I pretty much said, 'I am Markus and I can play American football, too.' A lot of coaches liked what I did and offered me a scholarship."
He landed a scholarship from North Carolina State and remembers how vastly different his first Wolfpack practice was compared to his club practices in Germany.
"Sometimes we had 15 to 20 guys in practice [in Germany], so we couldn't have a whole defense or whole offense," Kuhn said. "So I played quarterback, linebacker and defensive line. If I played quarterback, it probably can tell you what the level of competition was over there."
"Then, when you come to the States, each practice at each university you have 120 guys at practice," he added. "It definitely shocks you at the beginning."
Kuhn watched the two days of rookie camp practices and took mental reps while diving into the playbook. He might be in for a shock, like most rookies are once they finally get to practice against NFL veterans. But he is looking forward to that day and witnessing his first live NFL game.
"Never seen any NFL game other than on TV," Kuhn said. "But when I played in college, the first college game I played in was actually the first college game I actually really saw. Never been to one before and never been to an NFL game. Hopefully the first NFL game I see live is the one I play in, as well."