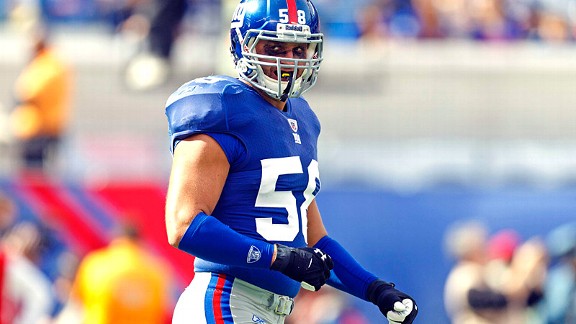 Jason O. Watson/US Presswire
Now that minicamp is over, we're going to take a look at a Giants player or specific unit or issue each day this week. Tomorrow we'll explore Perry Fewell's options for replacing defensive end Dave Tollefson.
SPOTLIGHT: The Giants linebackers.
THE 411: Ever since Antonio Pierce's injury and subsequent retirement, linebacker has been considered somewhat of a weakness. Fans have clamored for the team to draft or sign a high-profile linebacker. But the Giants put a higher premium on their pass rush and have often gotten by with two linebackers and three safeties in the past two seasons.
This year, the Giants' linebackers unit is deep and it may be the most competitive position in camp this summer. The addition of Keith Rivers could give the Giants another playmaker at the position and there are several second-year players itching to prove what they can do with a full offseason of coaching and training.
Mathias Kiwanuka is getting more comfortable in his hybrid linebacker/pass rusher role and Michael Boley and Chase Blackburn understand exactly what Fewell wants on the field.
With Jacquian Williams, Mark Herzlich, Greg Jones and Spencer Paysinger all benefiting from a season of experience and now a full offseason of training, the Giants have several young linebackers they are excited about. There will not be enough snaps to go around on defense but several of the young linebackers will continue to play important roles on special teams.
THE COMPETITION: During minicamp, the Giants started Boley, Blackburn and Kiwanuka in their base defense. The second team consisted of Rivers, Herzlich and Williams for the most part. The third team was Jones, rookie free agent Jake Muasau in the middle and Paysinger. Clint Sintim has been rehabbing from a second consecutive season-ending knee injury and has been doing running on the side during OTAs and minicamp. Adrian Tracy is listed as a linebacker but the team has been utilizing Tracy as a defensive end.
Fewell has declared Blackburn as his starting MLB entering training camp. But the defensive coordinator left the door open for the competition. He says he will experiment with Rivers at MLB a bit to see what the former ninth-overall pick of the 2008 draft can do. If Rivers shines in camp, he would appear to be the most likely guy who could replace Blackburn in the starting trio of linebackers because of his versatility.
The team likes Herzlich, and Fewell mentioned second-year 'backer's good play in practice this offseason. Jones was supposed to compete with Herzlich at MLB but Fewell moved him to strongside with the third team during minicamp. Fewell says he wants to see how versatile Jones is while testing Muasau at MLB. Fewell gushed about Muasau coming out of rookie camp and sees some promise in the Georgia State product.
WHAT THE COACHES ARE SAYING: Fewell is excited about the potential of his linebackers and says he feels comfortable enough to use three linebackers more this season after relying heavily on the three-safety package of Antrel Rolle, Kenny Phillips and Deon Grant over the past two years.
"Our linebacking corps a year ago was young and inexperienced," Fewell said. "They were talented but it was an area of concern [last year] because there was no OTAs, no mandatory minicamp. With a year under their belt, with some playing experience, they look bigger, they look stronger, they look faster, they are more knowledgeable. I think we are a better linebacking unit than at the end of the 2011 season."
"I think we have depth and there is real competition for different roles in our linebacker unit," Fewell added. "I am going to have to do a good job of evaluating those guys when we get to training camp and make sure we put them in the proper positions for success."
CAMP PREDICTION: Blackburn enters camp as the starting MLB and my guess is he will start the season opener because Fewell trusts Blackburn, who is an extension of him on the field. Fewell likes Rivers' potential and Rivers' role could grow as the season moves on. The Giants, though, could go with Boley, Blackburn and Kiwanuka on obvious running downs.
During passing situations, Kiwanuka could move to pass rusher and the Giants then will bring in Williams, who impressed last year with his speed and coverage ability, to pair with Boley. With Grant still unsigned, Fewell could utilize Rivers to go with Boley and Williams and have three quick linebackers out there on passing situations or go with two linebackers and an extra defensive back like safety Steve Brown.
The competition among the rest of the linebackers will be stiff, and the Giants will have some tough decisions to make when it comes down to final cuts. Herzlich also contributes on special teams. Jones was a staple on special teams but the team's decision to try him at outside linebacker on the third team and use rookie free agent Muasau as the third-team MLB was a bit curious. Jones started the season opener last year at MLB after Jonathan Goff went down with a knee injury. But he naturally struggled after spending the entire training camp as the third-string MLB and having just a handful of practices as the starter. Fewell has said Jones will still get snaps in practices at MLB in camp.
Jones and Paysinger will have to continue to contribute on special teams. The coaching staff likes Muasau, who could land on the practice squad if he doesn't make the final roster. The Giants should take it slow with Sintim in camp after his latest setback.
We'll have to see how many linebackers the Giants opt to keep. Will they carry nine linebackers or more? By the end of last season, the Giants had eight linebackers on the active roster if you include long snapper Zak DeOssie.
Tell us what you think of the Giants' linebackers and how you want to see Fewell use them below.