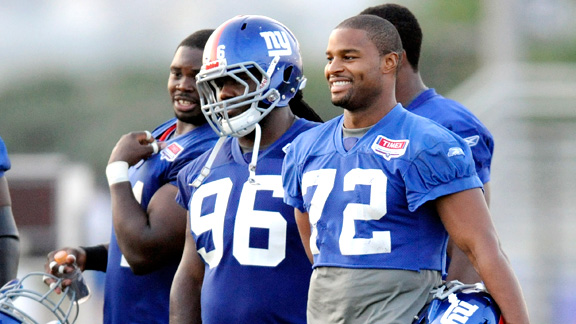 AP Photo/Bill Kostroun
Now that minicamp is over, we're going to take a look at a Giants player or specific unit or issue each day this week. Tomorrow we'll continue our defensive-minded spotlights by taking a look at the backup safety spot and who could help replace Deon Grant.
SPOTLIGHT: DT Marvin Austin
THE 411: The Giants were thrilled when they drafted Austin in the second round of the 2011 draft. They felt they had landed a player who could have been a possible first-round pick had he not missed all of the previous 2010 season due to the North Carolina NCAA agent scandal.
But Austin ended up missing a second straight season of football after he tore his pectoral muscle in a preseason game last year and now has not played in a football game in over two seasons. Prior to the injury that wiped out his rookie season, Austin impressed his veteran teammates in training camp.
This offseason, he has returned and is playing his way back into shape and getting his strength back. While Austin still has to show what he can do in a game, the 6-2, 312-pound defensive tackle offers an intriguing blend of size and speed according to defensive coordinator Perry Fewell. But he remains a question mark because of how long he has been off the field.

THE COMPETITION: Chris Canty and Linval Joseph remain the starters at defensive tackle. But Austin hopes to see snaps behind the two and will compete with Rocky Bernard and Shaun Rogers for playing time.
Canty has been recovering from offseason knee surgery but says he will be ready for the start of the season. Rogers was sidelined during OTAs and minicamp by an elbow injury, which helped lead to the Giants waiving TE Jake Ballard, who had failed his physical, and re-signing Bernard. The Giants had hoped Ballard would clear waivers but the Patriots scooped him up. Bernard, though, was a key backup last year on the defensive line and played well. He provides the Giants with veteran experience. The Giants hope Rogers can stay healthy and has plenty left in the tank to eat up a lot of space inside. But Austin is kind of the wild card at defensive tackle.
If Austin shows the kind of first-round talent the Giants believe he has and has the kind of speed that excites Fewell right now, the Giants' vaunted defensive line will be that much better.
WHAT THE COACHES ARE SAYING: "I am excited about Marvin Austin," Fewell said. "I know he hasn't played in a couple of years and he excited me last year in training camp and the preseason. He is different than the other defensive tackles we have because he has legit speed and quickness and get off. I am going to have to learn how to use Marvin a little bit differently than Linval Joseph, Shaun Rogers and Rocky Bernard because I think he can really cause some offensive linemen some problems with some of the things he can do."
Fewell says Austin's weight has not been a problem but he will have to report to camp in "peak condition." Austin's plan is to train in Florida leading up to training camp at the end of July.
"In this [minicamp] conditioning wasn't a problem," Fewell said. "You really won't find that out until we put on the pads. It will be up to Marvin to come back in peak condition. With these next five weeks that he has off, I will assume that he will really crank it up and get into better condition. We have talked about him being in the best condition he can possibly be in, in order to get the best performance and we expect that."
CAMP PREDICTION: If Austin's quickness and strength is as advertised, he should split backup snaps at defensive tackle with Bernard. Rogers could be a factor as a backup defensive tackle if he is healthy but there was enough concern there that the Giants went out and got Bernard back.
The Giants are deep at defensive tackle and if Austin plays up to the potential the Giants believe he has, that will be a major bonus for Fewell's defense. If he is quick enough to present problems and get into the backfield and even perhaps get inside pressure on quarterbacks, the Giants will have one more added dimension to their defense. They can get better at stopping the run. The unknown is how Austin will react to playing football games again and adjust to the pro game after being out for so long.
But Austin could potentially make an impact with the limited backup snaps he receives this season and play a bigger role next season.
Tell us what you think of what Austin can do this season and the Giants' defensive tackles below.