There was no chat this week, since I am taking a little break before training camp starts up at the end of the month.
But here are some questions leftover from the last chat and from Twitter:
Q: How many linebackers do they keep? Michael Boley, Mathias Kiwanuka, Chase Blackburn, Keith Rivers, Mark Herzlich, Jacquian Williams, Greg Jones, Spencer Paysinger are in the running. Doesn't seem likely they keep all of them, right? Paysinger first to go?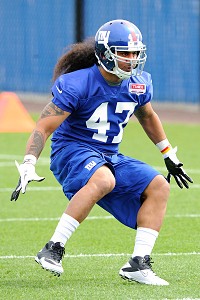 AP Photo/David Drapkin
Jake Muasau
OHM: This is going to be an interesting one. I am very curious to see who they keep at linebacker and how many of them. Special teams will obviously play a factor. And let's not forget about undrafted free agent Jake Muasau and Clint Sintim. The Giants like Muasau enough to try him some at third-string middle linebacker while moving Greg Jones for a bit to strongside linebacker.
At the end of the season, the Giants had seven linebackers on the active roster and one (Adrian Tracy) on the practice squad. I think there is a possibility the Giants keep perhaps eight linebackers (Tracy is considered a defensive end now). They like all the ones mentioned above, in the question.
Herzlich, Jones and Paysinger all play roles on special teams. Muasau could land on the practice squad. Sintim's ability to stick depends on his surgically repaired knee. If Sintim makes a healthy recovery, the Giants will have some difficult decisions to make.
Q: Any chance the G-men pick up a veteran RB? Kicking the tires on Ced Benson not a terrible idea.
OHM: I understand why some of you guys want to see Benson on the Giants to fill the Brandon Jacobs' void. But I think the Giants are going to see what they got with D.J. Ware, David Wilson, Andre Brown and Da'Rel Scott first. If for some reason they really see a weakness there and none of those guys satisfy what they are looking for -- or if there is an injury -- then I could see the Giants looking for a veteran running back. Otherwise I see the Giants sticking with what they have and seeing who emerges.
Q: Who's the receiver you think makes the biggest impact this year between Domenik Hixon, Jerrel Jernigan, Rueben Randle and Ramses Barden?
OHM: Based on the non-contact practices we saw in OTAs and minicamp, I think Hixon will have the edge to start off as the third wide receiver. Jernigan and Barden finished minicamp with a strong practice. But I think Randle is the guy from this group who can have the biggest impact by the end of the season.
The coaches have seen flashes of his potential during OTAs and minicamp and they sound impressed. Randle just needs time to learn the offense, develop a rapport with Eli Manning and continue to progress. This could be like last year, when the Giants had to wait until Week 3 for Victor Cruz to emerge.
Q: With all the tight end talk, how did Christian Hopkins look in minicamp? Jerry Reese mentioned him after Jake Ballard and Travis Beckum got injured.
OHM: Hopkins looks big and he's got some hands. At 6-5, 277 pounds, Hopkins is a large target. During the non-contact practices we were able to watch during OTAs and minicamp, we saw Hopkins make a few catches across the middle. He has ability. We'll have to see what he can do with more reps and full contract practices in camp.
Do you have more questions? Post them below.