ALBANY, N.Y. –- Wide receiver Hakeem Nicks will start training camp on the Physically Unable to Perform list as the Giants take things slow with their top receiver.
Nicks, defensive tackle Chris Canty, tight end Travis Beckum and linebacker Clint Sintim will start camp on the PUP list according to head coach Tom Coughlin. Players can come off the PUP at any point during training camp when they are ready to practice.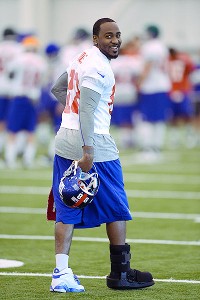 AP Photo/Evan Pinkus
Hakeem Nicks is expected to be ready for the season opener against the Cowboys.Coughlin said Nicks has not suffered any setbacks with his surgically-repaired toe. Nicks had surgery on May 25 and the original timetable announced by the team was 12 weeks. Nicks is expected to be ready for the season opener against the Cowboys.
"There's no setbacks but he just started running," Coughlin said. "And he started running in the pool so he has all that to go through before he can get out there and I think he can."
"He has been on the elliptical and he can do some things –- catching the ball," Coughlin added. "But he is not going to be able to run."
Canty underwent surgery on his knee in the offseason and he had said he expected to be ready for camp.
"It's going to take a little while," Coughlin said about Canty.
Sintim and Beckum are recovering from ACL surgeries and the Giants will be cautious with their injured players. The only other Giant other than those four players to skip Thursday's conditioning test was left tackle Will Beatty.
Coughlin said the team was being cautious with Beatty, who missed much of the OTAs and minicamp with a back issue.
"He is going to be limited but he will be ready to go," Coughlin said. "We are going to have to be careful. No doubt. But he can medically start practice."