ALBANY, N.Y. -- Wearing a white hooded New York Giants Super Bowl champion sweatshirt, Jason Pierre-Paul stood out among the Giants walking into the cafeteria at training camp.
These days, it's hard not to notice JPP either on or off the field, especially after a monster Pro Bowl season with 16.5 sacks and 86 tackles.
But the scary thing is that Pierre-Paul thinks he can get much better.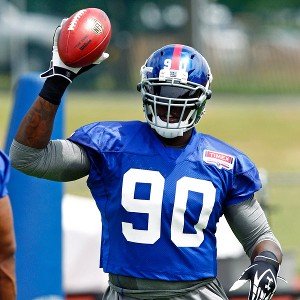 Mark L. Baer/US Presswire
Jason Pierre-Paul still has a long way to go, he says, before reaching his full potential. A scary thought considering his monster numbers last season.
"I am still improving," Pierre-Paul said today before the Giants' first practice of camp. "Trust me, I don't know it all, I still got a lot to learn in this game of football. I am like right here."
Pierre-Paul motioned his hand at about chest level to signify where he thinks he's at. And then he moved his hand above his head to show how much higher he can go.
"I am about 50 [percent]," Pierre-Paul explained at where he thinks his game is at. "I am still learning. That is the good thing about it. I want to come out here and learn and keep on improving."
The idea of Pierre-Paul getting better in his third season has to be terrifying for opposing quarterbacks and offensive lines.
Justin Tuck and Osi Umenyiora like to say that Pierre-Paul is only scratching the surface of how good he can be.
And with those three coming into camp healthy and in a good mental state of mind, the Giants' pass rush should continue harassing quarterbacks all season long.
"If we all are healthy at the same time and get the opportunity to be on the football field together, that trio is going to be tough to handle," Tuck said of the Giants' trio of defensive ends. "It's gonna be tough for offensive lines to block us."
"They'll have to pick and choose, they can't double-team all of us," Tuck continued. "We feel we can win the one-on-ones, that's gonna be our strength this year, if we're healthy."
Pierre-Paul saw his share of double teams last year and is prepared to try to shed more attention this season.
"I was getting them last year," Pierre-Paul said of the double teams. "That is not going to stop me. I am going to do my job."
Last season, Pierre-Paul went into camp still looking to prove that he can be a starter for the injured Umenyiora. This year, he enters camp as a Defensive Player of the Year candidate.
But his whole mentality is to go into camp pretending like he is an anonymous young player coming out of college trying to make his first pro football team.
"I am just trying to be that 20-year-old kid trying to make a football team and be a sponge to the game and teach these rookies something too," Pierre-Paul said. "That is basically it. Stay a 20-year-old kid trying to make the football team like I don't even have a spot on the team."