ALBANY, N.Y. -- The day started off looking gloomy with rain in the forecast. But the sun came out by noon and the Giants conducted their first practice of camp under the sun and in steamy conditions.
Here are some quick observations from the first practice:
-- Terrell Thomas started but was unable to finish practice after his back tightened up. The Giants say Thomas will be OK.
In his place, Michael Coe worked with the first team at cornerback opposite Corey Webster. Justin Tryon and Bruce Johnson were the second-team corners whilePrince Amukamara andAntwaun Molden were the third-team corners.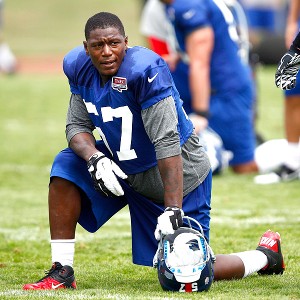 Mark L. Baer/US Presswire
The Giants conducted their first practice under steamy conditions Friday.
This gives us a little indication of how the Giants liked what they saw from Coe and Tryon in OTAs and minicamp. Also, it appears Amukamara is behind Coe and Tryon at the moment and perhaps Johnson. Coe, Tryon and Johnson are all coming back from season-ending injuries suffered last year.
-- Amukamara did show nice concentration on a bobbling interception off an overthrown deep ball by David Carr intended for Rueben Randle.
-- Randle had a nice training camp debut, making a few catches. During OTAs and minicamp, Randle showed ability to catch the ball across the middle and has nice hands and size.
-- Victor Cruz must feel at ease being in Albany again. He had a nice twisting catch that drew the loudest cheers from the crowd, which serenaded him with a "Cruuuz" chant.
-- The early pecking order at running back behind Ahmad Bradshaw is D.J. Ware, Andre Brown, Da'Rel Scott and David Wilson.
The Giants first-round pick was the last one to get some carries as it appears the rookie will have to work his way up. Wilson did have a nice leaping catch on a short pass from Ryan Perrilloux while Scott dropped a short pass.
-- The battle for the third wide receiver spot started with Hixon in with the first team opposite Cruz. Jerrel Jernigan and Ramses Barden were the second set of receivers and Randle came in after them. Jernigan caught some short passes and Barden also had a nice grab as he shielded off rookie cornerback Jayron Hosley.
-- Jernigan, Randle, Hixon, Hosley and wide receiver Brandon Collins fielded punt returns on the first day.
-- Here's your order at linebacker so far. Michael Boley,Chase Blackburn and Mathias Kiwanuka lined up with the first team. Second team was Keith Rivers, Mark Herzlich and Jacquian Williams. And Greg Jones, Jake Muasau and Spencer Paysinger rounded out the third team.
Note that Jones remains at outside linebacker and Muasau continues to get reps at middle linebacker with the third team. Muasau had a nice diving interception after a pass glanced off the outstretched arms of wide receiver David Douglas.
-- Boley got the first interception of camp, picking off a short pass from Eli Manning intended for Cruz.