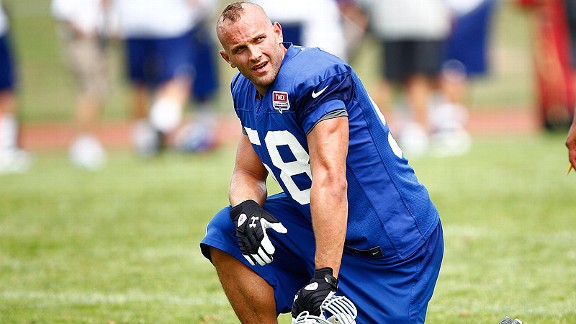 Mark L. Baer-US PRESSWIRE
Mark Herzlich hopes to make a bigger impact in his second season with Big Blue.
ALBANY, N.Y. –- Mark Herzlich has always looked imposing at 6-foot-4, 246 pounds.
But the New York Giants middle linebacker wanted to get stronger and quicker this season. And he might be.
This offseason, Herzlich went with a modified paleo diet, which is also known as the "caveman diet," while incorporating CrossFit workouts. The result is a leaner Herzlich, who is hoping to improve in coverage while still being physical in stopping the run.
"I just changed my diet," Herzlich said. "Eat a lot of nuts and berries and all natural foods and cut all dairy out of your diet. And then I incorporate in some CrossFit workouts with my power lifting -- it builds your endurance and kind of builds your explosion a little bit."
Herzlich starts camp as the second-team middle linebacker, but he hopes to make ground on Chase Blackburn and become the starting MLB in his second season.
Last year, Herzlich showed a glimpse of what he can do when he started two games at middle linebacker against the Philadelphia Eagles and New Orleans Saints. He had six tackles in those two games, and certainly gave a glimpse of his athleticism when he hurdled the line to make a stop against the Eagles. He attempted the same thing against the Saints, but was injured while trying to hurdle a running back to make a stop when a player got pushed into him.
Herzlich was beginning to show what he is capable of, and who knows what would have happened had he not gotten injured. He didn't play again the rest of the season due to his ankle injury. The Giants signed Blackburn, and the veteran became the starting middle linebacker during the team's Super Bowl run.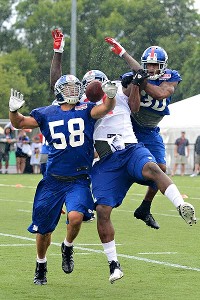 Evan Pinkus/Associated Press
Herzlich has looked good early on in training camp.
Herzlich doesn't spend a lot of time wondering what might've been had he stayed healthy. He just keeps on moving forward like he did when he beat cancer.
"I don't do what-ifs," Herzlich said. "There's too many instances in my life where I could go back and say 'What if, what if. What if I didn't get sick, what if I didn't get hurt.' That's not how you move forward so I don't do that at all."
Like his fellow teammates from last year's rookie class, Herzlich is feeling a lot more comfortable and experienced in this camp after a full offseason of training and coaching.
"I definitely feel more confident this year in my abilities and knowing the playbook," Herzlich said. "I think it's still a lot of pressure because you never know how numbers work out and you have to perform every day. And so, I'm taking it one day at a time, trying to learn as much as I can, trying to know a bunch of different positions and give me my best opportunity to make the team better."
The linebacking unit is going to be the most competitive position in camp. The Giants have Michael Boley, Mathias Kiwanuka, Blackburn, Jacquian Williams, Keith Rivers, Herzlich, Greg Jones, Spencer Paysinger, Clint Sintim and Jake Muasau at linebacker. The team will have to make some tough decisions when cuts are made.
Herzlich wants to improve on his pass-coverage skills, and he already has one of the best highlights of camp thus far after he caught a deflected pass for an interception while keeping his feet inbounds on Saturday. The Giants also used him at outside linebacker with the third team a bit on Sunday, in addition to his second-team middle linebacker duties with Boley and Rivers sidelined by hamstring injuries.
"I think he is moving well, he is focused and physical," coach Tom Coughlin said. "He was that last year. We couldn't get him off the field, practice or anything else. He doesn't appear to have any issue other than wanting to have more time on the field."
Herzlich would love to get another chance to show what he can do in a game situation at middle linebacker.
"It definitely let me know I'm able to play at this level, I'm able to succeed at this level and play well," he said of his two starts. "Playing in those two games was a great experience and a great confidence-builder because everybody tells you game speed is a lot faster than practice speed. Going out there and just knowing what it feels like to play in a big game on a big stage, you get confidence and it builds up for [this] year."
And while he enjoyed watching the Giants win the Super Bowl, he would like to be a contributor on defense to this year's repeat campaign.
"You never want to watch the Super Bowl and be on the sideline," Herzlich said. "It definitely motivated me to come back and be stronger and faster than I was the previous year. Watching the Super Bowl was an amazing feeling. Watching the rest of the playoff games was tough for me because you want to be out there, you want to be playing in those big games."
"Being on the field," he added, "is the goal for me."