ALBANY, N.Y. -- Tight end Martellus Bennett may not have responded to Jerry Jones' boast, but he still delivered some gems.
Bennett has quickly become the most entertaining quote on the Giants, and here's a sample of why from Wednesday: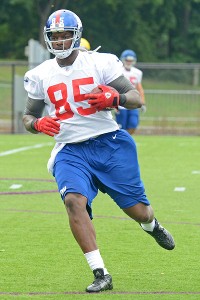 AP Photo/Evan Pinkus
Martellus Bennett
Q: How is your conditioning with your extra weight?
Bennett: "I'm kind of bigger than I was. I'm more muscular than I was in the past. I actually started lifting weights really, really hard. But I'm in the best shape I've ever been. Ask any of the guys in the camp, I'm stronger than I've ever been, I'm faster than I've ever been. I could run all day. I'm kind of like a black unicorn out there. It's amazing to watch. You go out there and you see a big, black guy running down the field, it's usually me. So I'm pretty good out there. It's been great so far."
Q: Can you talk about offensive coordinator Kevin Gilbride?
Bennett: "Oh, he's cool. He does a great job putting his players in position to make plays. I love the offense. It's moved around to where a tight end can really compete out here. He's just a great guy to be around, a good coach, he explains everything down to the T so you know exactly what's going on, how to do it, how to do your job. (He's like) Professor Dumbledore."
Q: How are you and Eli Manning, as far as getting on the same page?
Bennett: "I usually get along with a lot of people. Eli's a real laid-back guy. He's easy to talk to. Just ask him what he wants. It's not like, sometimes like your wife, you never know what she wants. You ask and she's like, 'Well, I don't want chicken.' You're like, 'Well, do you want steak?' She's like, 'No, I don't want steak.' You know Eli knows if he wants chicken or steak.
"He helps me out a whole lot. Because I come back, 'Hey did you like (this)?' 'No, I don't like that. I want you do this, this and this.' I'm like, OK, the next time I do it, I'll just do it the way he likes it. I like playing for Eli."
Q: How's your hamstring?
Bennett: "That was like 10 weeks ago. My hamstring feels good. You want to touch it?"